NLI launch pop-up exhibition: Le Grá; Seamus
16 June 2023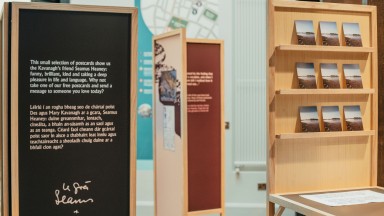 Seamus Heaney was a beloved and celebrated poet. He was also a great correspondent, sending letters and postcards and Christmas cards all over the world.
We are delighted to announce the launch of Le Grá; Seamus, a temporary new display of the Des and Mary Kavanagh Postcard Collection.
Visit our exhibition Seamus Heaney: Listen Now Again to see some of the postcards Seamus Heaney and his wife Marie sent to their friends Des and Mary Kavanagh over many decades.
Des and Seamus first met as schoolboys in St Columb's College in Derry, Northern Ireland and they shared a life-long friendship.
The small selection of Des and Mary Kavanagh's postcards show us their friend Seamus Heaney: funny, brilliant, kind and taking a deep pleasure in life and language.
Ann-Marie Smith, Manager of Seamus Heaney: Listen Now Again said "As part of our 5th anniversary celebrations, we are delighted to launch Le Grá; Seamus, a new temporary exhibition of the Des and Mary Kavanagh Postcard Collection. This exhibition displays a selection of postcards that were sent by Seamus and his wife Marie to their life-long friends; Des and Mary throughout many decades. It provides the visitor with an insight into the personal side of Seamus, illustrating school boy friendship, humour and playfulness."