Books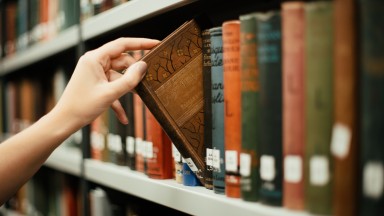 The National Library of Ireland's printed books collection consists of around one million items.
Central to the NLI's collection are books of Irish interest. This includes all books published in Ireland; all books by Irish authors; and all books containing subject matter of Irish interest. 
As a legal deposit library, the NLI has the right to claim a copy of everything published in the Republic of Ireland. We also purchase material published in Northern Ireland and other relevant material published further afield. The NLI aims to have a complete collection of all publications in the Irish language, and to preserve these and make them accessible. There are close to 12,750 entries for Irish language books in the catalogue, dating from the early 17th century to the present day.
Access
You can search for items in all our printed book collections using our online catalogue.
You can place an order for books using the online order form. You will require a reader's ticket to access the reading rooms.
Some of the book collections are held remotely and must be ordered a week in advance. This is indicated on the individual catalogue entries.
Many older texts from the NLI's collection are instantly available onsite in digital form on eResources like EEBO (Early English Books Online) and ECCO (Eighteenth Century Collections) which are accessible from any of our reading rooms. 
Modern book collections 
Modern book collections can be consulted in the Main Reading Room. You will require a reader's ticket to access this space. 
Some notable collections of modern books include:
Stephen Griffin collection: an ongoing donation from Stephen Griffin reflecting the history, experience and printed output of the Irish-American diaspora. 
Dr Pat Donlon collection: around 2,200 books for children from 1850-1990 by Irish authors or illustrators. 
Rare and antiquarian books
Rare and antiquarian book collections can be consulted in the Manuscript Reading Room. You will require a reader's ticket to access this reading room.
Some notable collections include: 
Joly Collection: a collection of 25,000 volumes containing many rare Irish books and several thousand pamphlets donated by Dr Jaspar Robert Joly to the Royal Dublin Society in 1863 and transferred to the NLI on its establishment. 
Librarian's Office collection:  is the NLI's rare books collection. It contains valuable and rare items, such as pre-1800 Irish imprints; some of the earliest books printed in the Irish language, or written by Irish authors; particularly rare works by major Irish literary writers, including signed or limited editions and presentation copies; books from the Dun Emer Press and the Cuala Press; and various other significant works.
This collection has call numbers with prefixes LO, LO P and LO LB and it is possible to search the catalogue under call number using these basic prefixes and then filtering to suit your requirements.
Swift collection: around 500 early editions of works by and relating to Jonathan Swift. This collection has the call number LO Swift.
Yeats Library Collection: the personal library of William Butler Yeats. Comprised of 3,371 items, it includes a substantial collection of editions of his works, and biographical and critical material. The Yeats Library Collection has the call number prefix YL.
Thom collection: the library of Alexander Thom, the printer of Thom's Directory, and consisting of 3,900 volumes. The Thom Collection has the call number prefix Thom.
Dix collection of Irish Printing: a collection of 8,000 books and pamphlets printed in the cities and towns of Ireland, assembled by the bibliographer E.R. McClintock Dix. This collection has the number prefix Dix.