Preservation & Conservation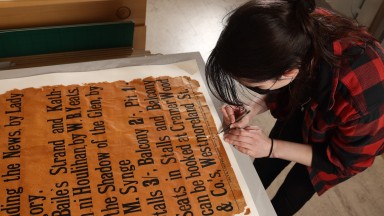 The National Library of Ireland's Conservation Department works to preserve and conserve the collections of the NLI.
The following preservation methods are used to slow down the natural aging process of collections and prevent further damage:
Environmental monitoring and control
Storage and housing materials
Safe handling
Loan and exhibition practice
Disaster prevention and response
Using science and technology, NLI conservators make collections available for research. These conservation treatments prolong the life and accessibility of collections through laboratory treatments, which improve the physical, chemical and often visual condition of an object. Our conservators work on a range of measures to reduce any risks of damage to the collections. Their activities include advice on handling, condition assessment surveying, and rehousing. Conservators also prepare items for onsite exhibitions and digitisation and items for loan to exhibitions nationally and internationally.  Many of our preservation practices can be applied to your own collections of photos, letters, diaries, books, prints and certificates, see Library Lab Top Tips to find out more. 
Caring for and storing family papers
It is important to keep rare and fragile documents in acid free folders and boxes in a dry place, away from direct light or heat sources.  For more advice, see the following links:
Preserving old photographs
The fading of old photographs is irreversible but many photographers now provide a digital restoration service, producing digitally enhanced copies of faded photographs. To find out more about photograph preservation, read the British Library's Preservation Advisory Centre's booklet.
Restoring items
NLI staff do not undertake conservation projects for private individuals. If you have valuable items in need of repair you should contact a professional conservator working in private practice. A list of practicing private conservators in Ireland is available from the Institute of Conservators & Restorers Ireland and in the Conservation Register in the UK.
Donating to the NLI
We are grateful to the donors who have contributed so generously to the development of the national collections. If you are interested in donating materials to the Library please contact us at collections@nli.ie.
Links
Professional Bodies
Preservation Departments in Libraries and Archives