Newspapers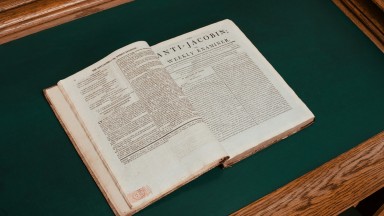 The National Library of Ireland is the only library in the State committed to collecting and preserving all Irish newspapers.
We hold the largest collection of Irish newspapers in the country dating from the late 17th century to the present day.
Newspapers from the Royal Dublin Society Library and the Joly Collection form the basis of this collection. A further 4,000 volumes were added in 1922 when the NLI received the collection of the Chief Secretary's Office from Dublin Castle.
As a legal deposit library, we receive a copy of all national and regional newspapers published in the Republic of Ireland on a daily, weekly or monthly basis, including variant editions. We purchase or receive by donation newspapers from Northern Ireland, and purchase other selected international newspapers of Irish interest. 
The NLI aims to be as comprehensive as possible in its collecting policy regarding newspapers. Local titles, free papers and newspapers representing minorities and special interest groups are also collected.
Access
Newspaper titles may be searched in our online catalogue.
For preservation reasons and for ease of access much of the newspaper collection is available on microfilm and may be consulted in the Microfilm Reading Room. You will require a reader's ticket to access this reading room.
Many national and regional titles have been digitised and we subscribe to a number of online digital newspaper resources, which can be searched free of charge in the reading rooms. 
Hardcopy newspapers not available on microfilm or in digital format are stored offsite and must be ordered a week in advance. If they are in a suitable condition, they will be retrieved for consultation in the Main Reading Room.
Where microfilm or digital formats are available, the hardcopy newspaper is not issued.
NEWSPLAN Project
The NEWSPLAN project was a co-operative preservation project for newspapers in Ireland and the United Kingdom. 
Its aim was to preserve newspapers through a microfilming programme that protects hardcopy holdings while making the content readily available to the public. The success of the project was based on the co-operation of national libraries, public libraries, academic libraries, private libraries and the newspaper industry. 
Each region published a report, listing the holdings of all existing files of newspapers in the region and allocating priorities for microfilming.
The report for Ireland has been digitised and is available to view on our online catalogue. The report was not intended to act as a bibliographic resource, but it has come to be widely used in this way and is a useful research tool.