Manuscripts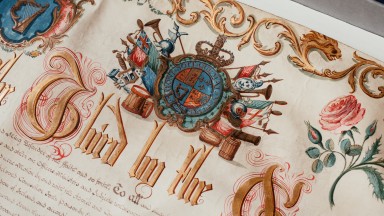 The National Library of Ireland houses over one million individual manuscript items, which document the history of Ireland and Irish people from the early 11th century up to the present day.
Manuscripts include volumes, maps, scrapbooks, select published items, as well as handwritten and typescript material originating in or relating to Ireland.
Access
You can search for manuscript items using our online catalogue.
Manuscripts are accessible in the Manuscript Reading Room, which is located at 2/3 Kildare Street. You will need a reader's ticket to access these collections.
Types of manuscript collections:
Gaelic manuscripts: manuscripts dating from the 14th century to the present, covering a range of subjects from literature to the Irish language revival movement to dinnseanchas (place-law). 
Landed estate papers: deeds, leases, rentals, financial accounts, wills, marriage settlements, mortgages, legal documents, maps, correspondence, as well as family and household papers from landed estates from all over the island of Ireland, with some material dating back as far as the 11th century. 
Literary collections: correspondence, diaries, notes, drafts and working copies of published and unpublished works of writers and playwrights such as James Joyce, WB Yeats, Seamus Heaney, Edna O'Brien, Maura Laverty and others. 
Theatre collections: material from the Abbey Theatre, the Gate Theatre, the Focus Theatre, the Field Day Theatre, the Lantern Theatre and the Project Theatre, as well as the diaries and papers of Joseph Holloway.
Political, social, economic and labour history: papers of political parties, trade unions and notable figures in Irish politics including Edmund Burke, Wolfe Tone, Daniel O'Connell, Patrick Pearse, Roger Casement, Hanna Sheehy Skeffington and others.
Women's history: papers documenting the history of women and the women's movement in Ireland including those of organisations such as Cumann na mBan and the Irish Countrywomen's Association, and individuals such as Rosamond Jacob, Aine Ceannt and Helena Molony.
Irish Queer Archive: a living archive documenting the LGBTI+ movement in Ireland.
Manuscript Collection Lists
Our Manuscript Collection Lists are now all searchable in the
online catalogue
. For the best results, type 
MS Collection List
 in the search box and select 
Call Number
 from the 
drop down
 menu and click 
Find
.  
Genealogical Office manuscript collection
This manuscript collection contains several key record series and are catalogued with the call number prefix GO MS. Catalogue entries are found on the online catalogue. Many are digitised and available to view online.
McAnlis consolidated index to Genealogical Office records
This four-volume index lists individual family name entries in a significant number of the Genealogical Office manuscripts.