Official Publications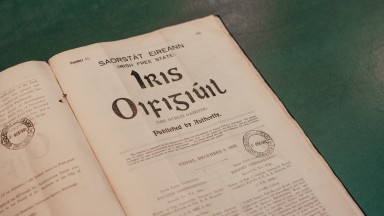 The National Library of Ireland's collection of official publications is an important resource for researchers.
The collection contains government publications from Irish, British and international sources, from the 17th century to the present day, with some earlier items.
Access
Many official publications have been digitised and are accessible through our eResources, available onsite. These eResources are easily searchable, however our staff are always available to assist. Some Irish official publications are catalogued at OPIE and, where these are not also available digitally, it is possible to consult the hard copies in the Main Reading Room, and they can be ordered in advance using our online order form.  You will require a reader's ticket to access the reading rooms.
The official publications collections available through eResources include:
Irish Collection (1922 - present)
United Kingdom (1800 - present)
Northern Ireland (1921 - present)
International