Digitisation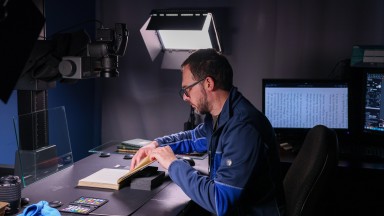 The National Library of Ireland digitises all formats including photographs, manuscripts, books, prints and drawings.
Digitisation of material plays a key role in making our collections accessible remotely for readers and researchers while protecting the originals which are withdrawn from circulation once they have been digitised. It is a cross-library process: material is selected from the collection areas using agreed criteria; metadata is created on the online catalogue; and, when necessary items are conserved before digitisation. 
After digitisation, the images are assessed for quality, and made available through the online catalogue. Items that are still in copyright and which have been digitised may only be viewed in the NLI's reading rooms.  Original items, once digitised are withdrawn from circulation.
Access
The NLI has digitised 140,000 items comprising around 780,000 images. Digitised items are available to view on the online catalogue using the digitised items filter. The search can be further narrowed by filtering under format, subject or other options.
A thumbnail image will appear in the record and once clicked on a larger image will appear, allowing you to examine the image in greater detail, which is useful when trying to read text. 
Among the collections that have been revealed completely or partially by digitisation are the following: