Permission to Re-use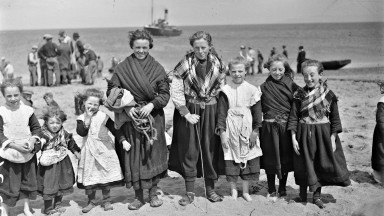 Permission to re-use material from the National Library of Ireland's collections must be secured in advance of publication, broadcast or exhibition.
Re-using material includes publishing in books, newspapers, magazines, films, or broadcasts. It also includes posting or distributing material online, for example, on social media or for advertising or exhibition purposes.
Where copyright exists and is not held by the NLI, you are responsible for obtaining the copyright holder's permission for re-use. 
Permission Fees
Permission fees are charged separately to copying fees. You must secure permission to re-use before we can process your copy order.
Fees are charged per image for one-time use only, unless stated otherwise.
For non-commercial and academic publications with a print run of less than 1,000 there is no charge for reproduction.
Fees for commercial publication in books, journals, newspapers, e-publications:
| | |
| --- | --- |
| 1-10 images | €15.00 per image  |
| 11 images or more | €10.00 per image |
| Images used on front or back cover of a publication | €50.00 per image |
Fees for use on websites, television and broadcasting (includes worldwide rights for five years with unlimited transmissions and webcasting):
| | |
| --- | --- |
| 1-10 images | €30.00 per image  |
| 11 or more images | €20.00 per image  |
Requesting permission to publish
Please complete the Permission Request Form and email it to permission@nli.ie.
Once we have reviewed the form, we will issue an invoice for the appropriate fee and provide details on payment methods. We will issue a letter of permission within ten working days of payment. 
Citation for National Library of Ireland material
Acknowledgements of NLI material should use the following form of words: "Reproduced courtesy of the National Library of Ireland."