Cataloguing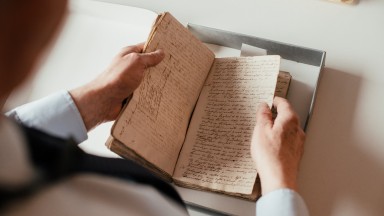 The National Library of Ireland is committed to revealing all of its collections via the Library catalogue.
Cataloguing is a core function for us and ensures our holdings are visible to people across the world. All newly-acquired collections and items are accessioned and recorded on the NLI's library management system, Virtua.
Once accessioned, this material is catalogued according to the relevant cataloguing guidelines and standards which include MARC21; RDA: Resource Description and Access; ISAD(G): General International Standard Archival Description; Library of Congress Name Authorities (LCNA); Library of Congress Subject Headings (LCSH); and Library of Congress Thesaurus for Graphic Materials (TGM).
Depending on their format and other considerations, physical collections are stored onsite or in one of our offsite facilities. The catalogue record indicates in which reading room the material can be consulted, or whether the material can be consulted online.
Web archive collections and archived sites are made available through multiple platforms including our online catalogue and the web archive portal where you can access our collections using full-text search and browse options.
Revealing our Hidden Collections
The National Library of Ireland has been actively collecting manuscripts and other papers of private provenance since 1948. We are proud of our success in preserving collections which might otherwise have been destroyed or broken up. At the same time, we are very aware that many of these collections are 'Hidden Collections' because we have not been in a position to reveal them through our catalogue. We are committed to revealing our Hidden Collections and to creating catalogue records for this material by the end of 2026.