Ephemera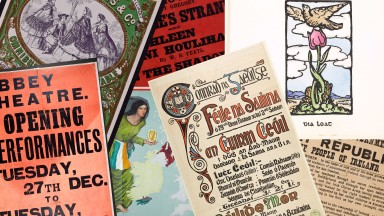 The National Library of Ireland's collection of ephemera is a fascinating record of Ireland from the 17th century to the present day.
The collection features historical proclamations, poetry broadsides, posters, playbills, handbills, concert programmes, theatre programmes, souvenir programmes, memorial cards, calendars, postcards, invitations, restaurant menus, flyers and pamphlets of eight pages or less.
Access 
Many items in the ephemera collections are digitised and are accessible via our online catalogue. Access to original material in the ephemera collections is currently not possible for the duration of the NLI's Capital Development Project. 
Significant items and collections
Proclamations: highlights include an original 1916 Proclamation and a proclamation issued by the French forces under General Jean Humbert, which landed at Kilcummin Bay near Killala in August 1798.
Political posters: election posters from the beginning of the Irish State in 1922.
Empire Marketing Board Posters: ten posters designed by Margaret Clarke and Seán Keating for the British Government's Empire Marketing Board to promote trade between the Irish Free State and Great Britain.
Recruiting Posters: army recruiting posters dating from the 18th century to the First World War. 
Holloway Theatre Collection: theatre programmes, posters and playbills from c.1880 to 1944, including the opening night poster for the Abbey Theatre in 1904.
Harry Clarke Collection: advertisements, invitations, memorial cards and bookplates by Irish artist Harry Clarke.