Photographs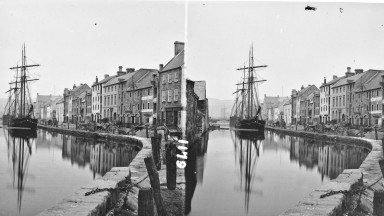 The National Library of Ireland houses over five million photographs, which are an invaluable visual record of the history and culture of Ireland from the 1840s to the present day.
The collection includes work dating back to the earliest photography on the island, through the work of commercial studios in the 19th and 20th centuries, to huge archives of photojournalism, as well as themed collections documenting specific subjects.
Access
Many photographs in our collection have been digitised and are accessible via our online catalogue.
The NLI's photographic collection is housed in the National Photographic Archive. Access for researchers who hold a valid reader's ticket is by appointment only. Please contact npaoffice@nli.ie in advance.
Highlights of the photographic collection include:
Early Irish photography 
Clonbrock Photographic Collection (1860s-1930s): over 2,000 glass plates and prints. The photographers were members of the Dillon family, Barons Clonbrock, of Ahascragh, Co. Galway. The NLI also holds the family papers.
Eblana Collection (1870s-1880s): 3,000 glass plates were a precursor to the Lawrence Collection and many of the images were later used by that studio. 
Photographic Society of Ireland Collection (1850s-20th century): donated to the NLI in the late 1990s and features a significant archive of early works by Irish and English photographers. 
Tenison Collection (1850s-1860s): features early photographs in decorative albums taken by the pioneering Irish photographers Lady Louisa and Edward King-Tenison. 
Studio collections 
Lawrence Collection (1870s-1914): approximately 40,000 topographical glass plate negatives. Since the NLI acquired them in 1943, they have been a hugely popular collection. The images were produced commercially and capture scenes throughout Ireland. It is believed that many of the images were taken by one photographer, Robert French. 
Poole Collection (1884-1954): over 50,000 glass plates, many of which feature studio portraits of people from Waterford, while others reflect the social and economic life of the area. The family firm of A.H. Poole operated as commercial photographers in Waterford for many years.
Keogh Collection (1915-1930): 445 glass plates taken by the Keogh Brothers of Dorset Street, Dublin between 1915-1930, and include photographs of political figures and significant events in Irish history during the period.
Contemporary Irish collections
Christopher Robson Photographic Collection (1992-2002): records LGBTI+ life at that time.
Our Own Place Photographic Collection (1990-1991): photographs from members of history societies around Ireland.
There are also collections of contemporary photographs of Northern Ireland taken between 1970-2022 by various photographers including William L Rukeyser, Colman Doyle, Henning Christoph, and George V Scott.