Family History Service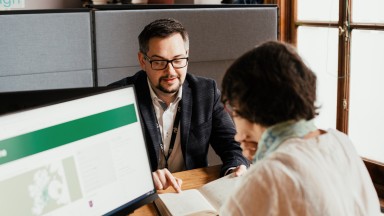 The National Library of Ireland's free Family History Service is an ideal starting point for those beginning family history research, as well as for more experienced researchers.
It is located in the main building above the entrance hall. There are a number of research spaces that include computers for accessing the digital resources, as well as reference works relating to genealogy. Staff are on hand to provide assistance.
Opening hours for the Family History service can be found online.
Please note that a reader's ticket is required to access the Family History Room. You may apply for a reader's ticket using our online application form.
You can book an in-person consultation with a member of our family history team for guidance on researching your family history. To make an appointment, please email familyhistoryappointments@nli.ie. You will be asked in advance to complete a short form to help us to understand your specific requirements.
If you are unable to visit in person but would like to start researching your family history, please email genealogy@nli.ie.
Commissioning research
Library staff can help you with your research, assist you with locating resources and provide tips on the most appropriate sources for your project. However, we are not in a position to offer an extensive genealogical research service. If you need research assistance beyond what our staff can provide you may wish to commission someone to carry out research on your behalf.  
We have a list of researchers — private individuals and organisations — who have indicated a willingness to undertake family history research on a professional, fee-paying basis.
View a list of researchers here.
The National Library of Ireland does not sponsor or endorse the individuals or organisations named and will not be responsible for research arrangements, payments or results.