For Publishers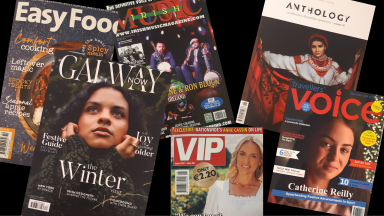 The National Library of Ireland offers the following services for publishers
Permission to re-use
Information for publishers on how to obtain permission to reproduce material from the NLI's collections is available on the Permission to Re-use page.
Legal Deposit legislation 
Irish publishers should be aware of their obligations under Legal Deposit legislation, and understand the benefits. More information about this can be found on the Collecting page.
International Standard Serial Number (ISSN)
An ISSN is an eight-digit code used to identify newspapers, journals, magazines and serials of all kinds and on all media, print and electronic.
Irish ISSN Centre
The Irish ISSN Centre at the NLI is part of an international network of over 90 centres. It is responsible for assigning ISSNs to serials published in the Republic of Ireland. There is no charge for this service. The Irish centre also creates ISSN records and registers them on the ISSN International Portal at portal.issn.org.
ISSN Application Criteria
ISSNs are assigned only to serial publications. Serials are print or non-print publications issued in parts, usually bearing issue numbers, issue dates, or both. A serial is expected to continue indefinitely. Serials include magazines, newsletters, newspapers, annuals (such as reports, yearbooks, and directories), journals, proceedings, transactions of societies and numbered series and certain electronic publications.
To be assigned an ISSN, you must clearly show in your application:
The name and address of the publisher which must appear on all issues of the publication. Please note: The Irish Centre issues ISSNs only to publications with an Irish address.
A complete issue or copy of the cover, title page and editorial page provided as photocopies or digitally as a .pdf or .jpg file. The editorial page (or other easily accessible) page must show the name and address of the publisher.
Contact details must be provided. These include the name of publisher or institution, address, telephone number(s), and email addresses (institutional domain, where applicable).
There are additional criteria for online publications:
Online publications are not assigned an ISSN ahead of publication.
ISSNs are assigned to online publications only after the first issue is uploaded.
Editorial boards must be clearly identified with complete contact details, including name of publisher or institution, address, telephone number(s), email (institutional domain, where applicable) displayed on the publication website. 
The publication must have a valid URL. 
Journal(s)/serials(s) affiliated with institutions or organisations should be linked to the website of the institution or organisation.
For new publications, five articles is the minimum to constitute a single issue.
We may need to request additional information to understand whether your publication qualifies for an ISSN.
The NLI reserves the right to refuse an ISSN assignment if it is considered that misleading information has been provided by the requestor, printed in the publication or displayed on its website. This may concern the place of publication (publisher's address), the members of the editorial board, referencing by indexing services or databases, participation in digital preservation programs, or the authorship of the articles provided.
Uses of ISSN
For publishers:
ISSNs are a unique identifier and can be used to construct barcodes.
For libraries:
ISSNs are used in library catalogues as unique identifiers often distinguishing between identical titles.
For subscription agencies:
Agencies who act as intermediaries between publishers and their customers use the ISSN to ensure the correct serial publication is ordered. 
For academics:
ISSNs are used to cite full details of publications for research purposes.
For retailers or wholesalers:
ISSN-based barcodes are used within their own internal systems in order to assess and control magazine/newspaper circulation.
For Open Access Resources:
ISSN is required for indexing.
ISSN and Barcodes
An ISSN can be used to build a barcode, now desired by many wholesalers and retailers. The main part of the barcode identifies the title. If the title changes, you must apply for a new ISSN and will need a new barcode. 
The Irish ISSN Centre does not supply barcodes. There are a number of commercial suppliers in Ireland providing this service. The provider will be able to answer any queries relating to barcodes. Some helpful information is available from the International ISSN Centre. 
ISSN Display
The ISSN should be displayed in a prominent position on every issue of a serial. On printed serials, it should be displayed on the front cover, title page, masthead, back cover or editorial pages. On a digital serial, the ISSN should be displayed prominently on the title screen or main menu.
The number should be preceded by a space and the initials ISSN, then 4 digits, followed by a hyphen, then the next 4 digits. For example: ISSN 2881-7680.
ISBN
International Standard Book Numbers (ISBNs) are used for books. An ISBN represents a single volume. The NLI does not issue ISBNs. You can obtain an ISBN from Nielsen's ISBN Store at www.nielsenisbnstore.com.
ISSN Online Application Form
Please post the first issue of print publications to the address below:
Irish ISSN Centre
National Library of Ireland
Post & Deliveries
Leinster Lane
D02 Y7F4
Email: issnirl@nli.ie
Contact number: +353 1 603 0288