Prints and Drawings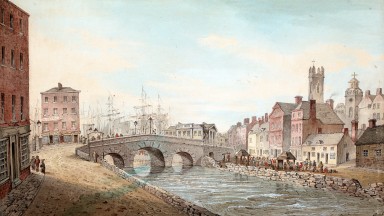 The National Library of Ireland has over 100,000 prints and drawings, created by hundreds of artists and engravers. They are a fascinating visual record of Ireland from the 17th century to today.
The collection includes individual prints, albums, original drawings, watercolours, architectural drawings, portraits and topographical works. Many of the prints and drawings were originally in the library of the Royal Dublin Society or were part of the collection of our first donor, Dr Jaspar Robert Joly.  
Access
Many thousands of prints and drawings have already been digitised and are accessible via our online catalogue. Access to the original prints and drawings collection will not be possible for the duration of the NLI's redevelopment project. 
Notable Collections
Notable collections of prints and drawings include:
Irish cartoons and satires: prints and original drawings from the 18th century to the present day on political themes, including the work of John Fergus O'Hea, JD Reigh and Thomas Fitzpatrick.
Irish book illustrations: original artwork for books by Elizabeth Rivers, Margaret Gregory, René Bull, Sophia Praeger, Harry Clarke and PJ Lynch, among others.
Irish portraits: several thousand prints, engravings and some original drawings, including the work of Hugh Douglas Hamilton, James Petrie, Charles Grey RHA, Henry Brocas, Senior and John Butler Yeats. 
Irish topographical prints and drawings: an extensive collection displaying Ireland's changing landscape over three centuries. 
Irish historical prints and drawings: illustrations, watercolours and engravings recording political, economic and social history from the 1660s onwards. 
Irish architectural drawings: works mainly covering the 18th and 19th centuries, including the those by James Gandon, Thomas Cooley, Francis Johnston, James Cavanagh Murphy and Michael Stapleton.
Norah McGuiness Collection: the papers, prints, images and ephemera of the 20th century painter, designer and illustrator.