Ordering Material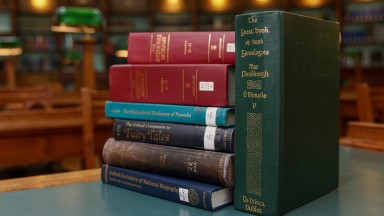 The National Library of Ireland is a reference library. Our collections cannot be borrowed, but may be consulted in the reading rooms.
To access the reading rooms, you will need a reader's ticket.
All material should be ordered in advance using the online order form.
There are two deliveries of material each day (Monday – Friday), 9.30am and 2pm in both the Main Reading Room and Manuscripts Reading Room.
Same day delivery is available for material ordered by 11am in the Main Reading Room; this material will be available from 2pm.
On Saturdays, there are two deliveries of material to the Main Reading Room at 9.30am and 11am, and one delivery to the Manuscripts Reading Room at 9.30am.
Up to eight items may be ordered per delivery.
Material that has been digitised can only be consulted online; the original will not be issued.
Manuscripts
Ordering material from the manuscripts collections can be complex. Manuscript call numbers may refer to a single item or volume, a collection of folders, or a large number of boxes. Please contact mqueries@nli.ie if you require assistance in ordering material or narrowing down your selection.
Prints, Drawings and Ephemera
Access to original material in the Prints and Drawings and Ephemera collections is suspended for the period of the NLI's Capital Development Project. Over 22,000 items from these collections are digitised and available online.
Photographs
Over 67,000 items from Photographic Collections are digitised and available online. Photographs that are not yet digitised may be consulted by appointment only in the National Photographic Archive in Temple Bar. 
Please email npaoffice@nli.ie to arrange your appointment.