Accessibility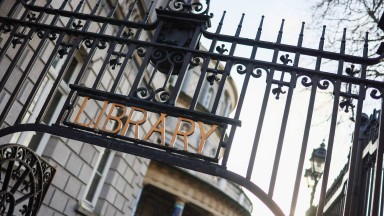 The National Library of Ireland is working towards improving accessibility throughout our buildings as part of our capital development project.
The NLI is undergoing a major capital development project,  which will ensure universal accessibility  for all visitors.  
NLI staff are happy to discuss any queries about facilities in all of the NLI buildings and can be contacted by emailing info@nli.ie.
 
Access 
Wheelchair access to the main NLI building is via a ramp from the main entrance on Kildare Street.
The entrance doors leading into the main building and the reader's ticket office are automated, controlled by an access button.
On entry to the front hall, wheelchair/mobility impaired users can access the Main Reading Room via the lift and you will be accompanied by a staff member.
The exhibition YEATS: The Life and Works of William Butler Yeats on the lower ground floor is also accessible via a lift.
Universal access toilets are located on the ground floor off the front hall.
There are no public parking facilities at the NLI. There is a set-down lay-by in front of Leinster House approximately 45m from our front gate and wheelchair parking bays approximately 100m away on Molesworth Street. There are two commercial public parking facilities, approximately  175m away at Schoolhouse Lane and Setanta Place.
Reading rooms 
To use any of our reading rooms, and the Family History service, you must have  a reader's ticket. You may apply for a reader's ticket in advance by using our online application form.
Main Reading Room
A height adjustable workstation is available in the Microfilm Reading Room located off the Main Reading Room on the first floor and is accessed via the lift. Readers will be accompanied by a staff member in the lift.
Manuscripts Reading Room, 2/3 Kildare Street
Research facilities for wheelchair users/mobility impaired readers wishing to consult manuscripts or rare books are currently provided in the Main Reading Room.
Please contact manuscripts staff in advance of your visit at mqueries@nli.ie.
JAM Card
The NLI is proud to offer a JAM Card friendly environment. The JAM Card allows people with a hidden disability or communication barrier to tell others that they need extra time and understanding in a private and easy way. The JAM Card is a physical card or mobile app that allows a user to ask for 'Just a Minute' of patience in a public or social situation.
When visiting the NLI show your JAM Card, in card or app form, to a member of staff who will be happy to give you as much time as you may need and help to support your visit.
Exhibition Spaces
National Photographic Archive
The National Photographic Archive Reading Room and exhibition space is accessible for wheelchair users. There is a universal access toilet located on the ground floor.
Seamus Heaney: Listen Now Again Exhibition
The Seamus Heaney: Listen Now Again exhibition is at the Bank of Ireland Cultural and Heritage Centre at College Green – entrance via Westmoreland Street. 
The Seamus Heaney exhibition space is accessible for wheelchair users. There is a portable ramp in place for ease of access for wheelchair/mobility impaired visitors. There is a lift available on the ground floor to take visitors to the exhibition floor and the universal access toilet is available on the first floor. For queries, please call 01 670 6153 or e-mail heaneyexhibition@nli.ie.
Facilities
Evac Chair
The NLI has evacuation procedures in place to assist all to evacuate the buildings safely. The evacuation procedure for wheelchair/mobility impaired readers includes the use of an "Evac" chair.
Hearing Loops
To assist readers and visitors with a hearing impairment hearing loops are installed throughout our buildings.
Guide and assistance dogs
Guide dogs and assistance dogs are welcome.