Capital Development Project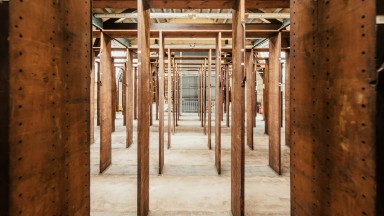 The National Library of Ireland is undergoing a major capital development programme in the West Wing of our Kildare Street campus.
This is the most significant investment in the physical infrastructure of the NLI since opening to the public in 1890. It will bring the building up to contemporary standards and safeguard our heritage while being faithful to the beauty of the Victorian-era design.
To date, much-needed building works have taken place across our Kildare Street campus including the relocation of the prints, drawings and ephemera collections, and the published collections comprising more than 350,000 items. They have moved from six storeys of Victorian book stacks to  a new onsite book repository.
This major undertaking is an exceptionally ambitious project. It is essential for the future of the NLI as it will deliver safe storage for the national collections; new spaces to host NLI exhibitions; learning and events; and a shop and café to enhance  the visitor experience. The programme will ensure universal accessibility for all our visitors.
Delivering the ambitions of this partnership – together with the Office of Public Works and the Department of Tourism, Culture, Arts, Gaeltacht, Sport and Media – involves a major commitment of budget, resources, time and expertise. We thank you for your patience and support during this project.
Read more: