Exhibition | Yeats: The Life and Works of William Butler Yeats
Date
Permanent Exhibition | Open Monday to Sunday
Location
National Library of Ireland, 7-8 Kildare Street, Dublin 2, D02 P638
Price
Free, booking not required
Date
Permanent Exhibition | Open Monday to Sunday
Location
National Library of Ireland, 7-8 Kildare Street, Dublin 2, D02 P638
Price
Free, booking not required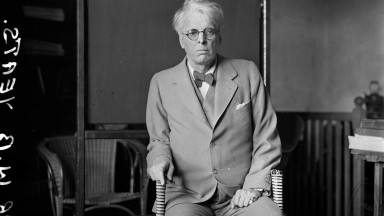 Experience our award-winning exhibition on William Butler Yeats (1865-1939), one of the great writers of the 20th century and a significant influence on modern Irish cultural identity. The exhibition is comprised of items from the National Library of Ireland's Yeats Collection, the largest collections of books, manuscripts, and personal items relating to WB Yeats in the world.
The exhibition touches on Yeats's many interests – Ireland, literature, folklore, theatre, politics, mysticism, and the occult. Some highlights include manuscripts of many of Yeats's most beloved poems including "The Lake Isle of Inisfree" and "Easter, 1916", his Nobel Prize medal, personal artefacts – from Yeats's school reports to a cherished carved piece of lapis lazuli – remarkable photographs of Yeats and his family and friends, and much more.
This exhibition is made possible by the generosity of the Yeats family in donating these wonderful items to the NLI.
Permanent Exhibition, Open Monday to Sunday Monday, Thursday & Friday, 9.30am - 5pm, last admission 4.30pm Tuesday - Wednesday, 9.30am - 7pm, last admission 6.30pm Saturday - Sunday, 9.30am - 5pm, last admission 4:45pm Public Holiday Mondays, 12pm - 5pm, last admission 4:45pm