Blog Archive
Romantic Ireland is NOT Dead and Gone
Friday, 13 February 2015
by Yvette Campbell, Cataloguer, Joseph Holloway Collection
As I was working away cataloguing the NLI's wonderful Joseph Holloway Collection with its focus on the theatre scene in Ireland and England during the 19th and early 20th century, I stumbled upon a little gem of social interest for all the romantics out there to get you feeling all fuzzy inside this Valentine's Day.
A beautiful handwritten note in pencil addressed to a certain "John" was discovered on the back cover of 'Romances of Crime; or, the Disclosures of a Detective' by James M'Levy.  (NLI Call No. 15A 1027)
The book was published in approximately 1860 and belonged to a "W. John Gorman".  Could this be the same "John" who the love note was intended for? The note is signed – "Annie [Bourke?]  It reads:
"Dear John, you will not think my wishes cold for all your future welfare true,
You will not think that others hold that place reserved for you"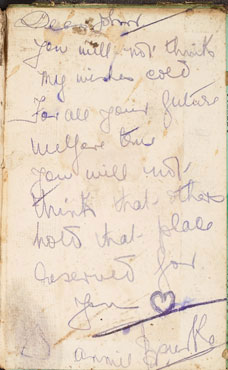 The book is filled with a variety of marginalia that is quite difficult to read, but this note was written very clearly and stood out among them.
Perhaps the mystery of who these two lovers were adds to the romantic aspect of the story. Perhaps it's our innate desire to create stories, and items such as this are just empty stories that we can fill in. It's a wonderful feeling to discover a love note written in secret nearly 150 years ago and you can't help but wonder who wrote it, where they came from, and whatever happened to them, or was it reciprocated.
As a fellow librarian has said of such delights; "You can create a story that connects you to these unknown people or you can create a story that distances you from them, but in either case, you get to be the storyteller".
 Happy Valentines Day!