Blog Archive
The John Hinde Postcard Collection at the National Photographic Archive.
Monday, 13 October 2014
by Karl Leonard, DIT NPA Internship, Sept-Dec 2013.
The Archiving in Context module for BA Photography students at the Dublin Institute of Technology (DIT) provides third year photography students with practical experience of working with a photographic collection at the National Photographic Archive (NPA). This internship was undertaken in the NPA under the Supervision of Elizabeth Kirwan, curator at the National Photographic Archive, and with Matthew Cains the NLI Conservator and Keith Murphy, Reading Room Manager.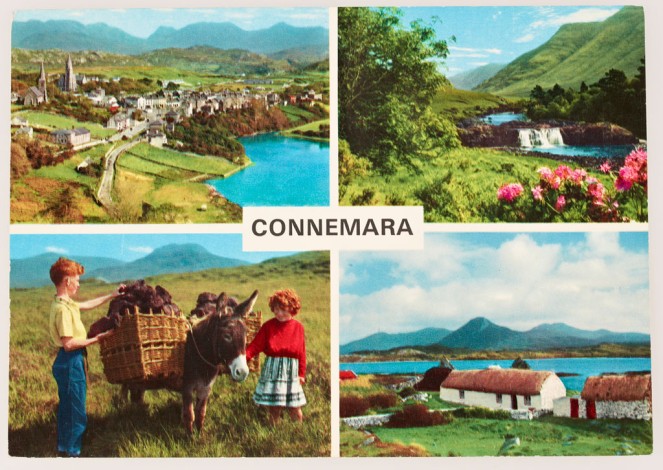 My task was to sort, rehouse, and list the contents of an archival box full of photographs, the NPA's John Hinde postcard collection.  It was an opportunity to learn about the work of John Hinde, whom I had only previously known for his stereotypical Irish postcards with rolling green hills and red-haired children. I hoped that it might be possible to track down any remaining Hinde family members or Hinde studio employees to get a first-hand account of the work done by Hinde.
Mathew Cains, the National Library of Ireland's (NLI) conservator, trained me in preservation methods, so I could handle and rehouse the Hinde Collection according to best international practice.  This included how to use Mylar housing, acid-free cardboard folders and nitrile gloves when handling photographic prints. The prints could then be catalogued, digitised and ultimately made accessible online.
I discovered that the Hinde photographic collection was produced by six photographers (including John Hinde himself) at the Hinde studios in Cabinteely, between 1957 and 1972. The NPA Hinde Collection consist of 441 colour A6 size postcards, 47 large 9"x6½" colour postcards, 10 pictorial letter guides and several miscellaneous documents and magazines related to the collection and Hinde's career. However, it was missing its accession notes, in which museums and archives typically record the provenance of their collections.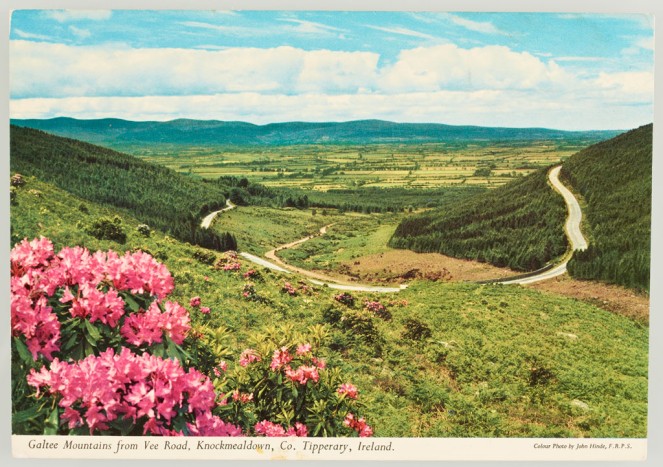 The Hinde Collection postcards were organised by location, under Irish county, and numbered sequentially on the back of the postcard in pencil. Through discussion with NPA staff, I gathered that the Hinde collection was in its original order.  The lack of accession notes necessitated further research to uncover who had previously organised the collection, whether it had been donated or sold to the NPA directly from the Hinde Studios in Cabinteely, or whether it had been donated or sold by a private collector.
What had happened to the Hinde Company after it was sold to Waterford Glass in 1972?  Were there any other existing archives of Hinde's work?  I contacted the co-curator of Johnhindecollection.com, Michelle Abadie, who along with Marcus Davies had exhibited Hinde postcards at the Photographers Gallery in London in 2013.  Hinde's family had donated his collection to the NationalMediaMuseum in Bradford after his death and it remains to be catalogued.
I contacted senior curator at IMMA, Christina Kennedy, where the 1993 Hindesight exhibition had been presented, and Joe Lee, who had produced Hindesight, a documentary on Hinde's work. I also contacted Sean Hillen, who had worked with Hinde during the production of his Irelantis photomontages, and David Lee, photographic historian and writer for Source magazine. He advised contacting one of the remaining Hinde studio photographers Edmund Nagele, which I did with the assistance of Michael Pritchard, who like Hinde was a Fellow of the Royal Photographic Society (FRPS).
Edmund Nagele explained the process of commissioning, photographing, printing, retouching, and archiving at the Hinde studios.  As written codes like those pencilled on the NPA's collection weren't used, this suggested to me that the NPA's Hinde collection was probably a donation from a private collector.
The NPA's Hinde collection promoted Irish tourism before the development of digital imaging. Justin Carville (2011:10) argues that Hinde identified a "spiritual positivity, a sort of evangelical vision that could be projected throughout society by the humble tourist postcard." This idealised view of Ireland was at the time in stark contrast with the grim realities of a stagnant economy and repressed society in 1950's Ireland, thus often causing Hinde's postcards to be "identified as emblematic of an 'imaginary' view of Ireland propagated by foreign photographers."
The Hinde Studio created what Moroney (1998:20) describes as an "impossibly sunlit Ireland, dotted with red-haired kids in shawls, thatched cottages, jaunting cars, donkeys, lupin-fringed lakes: over lit landscapes of idealised rustic beauty and vivid fruit-flavoured colours." Nagele described how all photography was undertaken with Plaubel Junior 4x5 cameras using Ektachrome-X sheet-film which was processed by hand at the factory in Cabinteely. The photographic department made black & white prints to the exact postcard size on which John Hinde made his now famous 'colour-notes'.  These include: "make sky blue with white clouds", "make (black) car RED", and "remove telegraph post".  The original transparencies together with the black & white colour-notes were sent to Milan, Italy where the colour-separation films were produced for John Hinde Ltd., and returned, after approximately six months, with the separation films and original transparencies including colour-notes. The 4-colour print separations were passed to the Platemaking Department to copy the CMYK separations onto printing plates.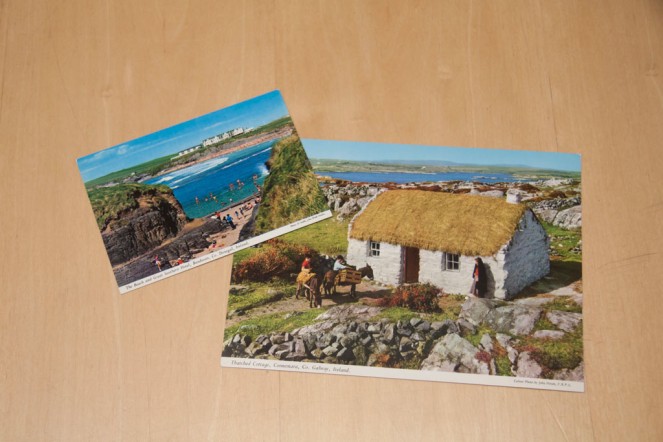 I discovered that using this technique of colour manipulation enabled Hinde to create impossibly Mediterranean blue skies and lush green fields which were to become the stereotypical representations of Ireland for many years. The scene was always very carefully constructed often with numerous return visits, and the composition was also very precisely designed often placing flowers or bushes in the front corner to add colour and fake the closeness of nature, while telephone poles and TV aerials were removed.
I was unable to establish who originally owned the collection.  I did rehouse each item in Mylar sleeves and created a detailed description of all 498 postcards.  In due course, this metadata can be transferred to the NLI's online catalogue. I also discovered that the postcards consisted almost entirely of scenes from the thirty-two counties on the island of Ireland, with only three exceptions, two of those being airplanes in flight and the third being from one from the island of Jersey. My research revealed that Hinde photographers had travelled not only throughout Ireland particularly to Butlins Mosney holiday camp, but also throughout the UK, and to Africa and the Canary Islands.  As none of these locations feature in the NPA's collection, it seems that the NPA Hinde Collection is a limited private collection focused on the island of Ireland.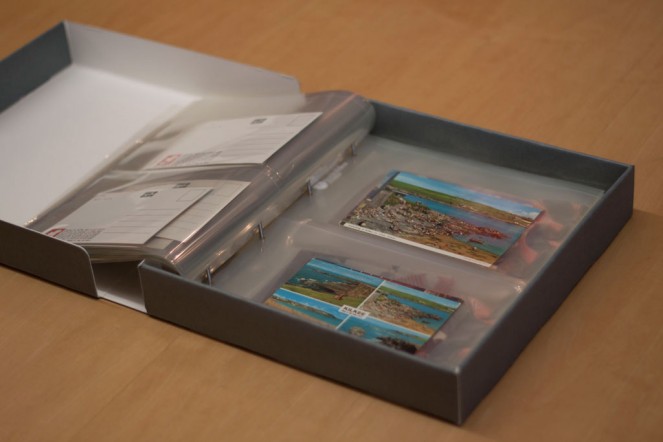 It was very rewarding to have completed this work for the NPA, sometimes laborious, but never dull. I especially enjoyed the investigative journey that unfolded which afforded me the privilege of meeting and interviewing some thoroughly interesting artists, film-makers and critics. For me it was a great learning opportunity to research and engage with such an interesting collection.
Bibliography:
Carville, J. (2011): Photography And Ireland, London: Reaktion Books
Moroney, M. (1998): 'Postcards From The Edge', Cara, Vol. 31 No. 2, 20-8
Weski, T. (2008): 'Introduction by Thomas Weski', In: Parr, M (ed)(2008): Postcards [selected by] Martin Parr, London: Chris Boot