Blog Archive
Family Fragments from the First World War
Thursday, 15 March 2012
History as the Sum of Our Stories
by Avice-Claire McGovern, Librarian
The digital age has caused a shift in our collective remembrance practices. No longer solely the province of professional historians, the great democratization of information production and sharing brought about by the world-wide web means that anyone can contribute to the patchwork of the past. Hand in hand with (and no doubt fuelled by) these technological changes, we have witnessed a burgeoning interest in genealogy. While personal and 'amateur' histories (the sharing of testimonies, artefacts, family histories, etc.) cannot replace academic scholarship, they provide an important accompaniment (and at times corrective) to official accounts, revealing, at times, aspects of the past that hitherto have not received attention, and which perhaps do not fit neatly into established accounts of our mutual past. In other words, family history is not only of interest and relevance to a given family. It can shed new light on broader historical phenomena.
When I heard that the National Library of Ireland would be participating in the Europeana 1914-1918 project to build a First World War Digital Archive, I was delighted at the opportunity that this afforded me to share the stories of two of my relatives who served in the First World War - my grandmother's first cousin John Dennis (Jack) Jenkinson, and my great grand uncle James Brady. The fate of these two men could not have been more different - Jack Jenkinson was killed on Sunday, 25th November 1917 at the age of only 19, determined to fight on the Western Front so that he could avoid the simultaneous conflict in Ireland, while James Brady was one of the lucky survivors of the War, seeing out his service in the relative safety of Malta. Our family has only three items that connect these two men with the First World War, items which this project allows us to record for future generations.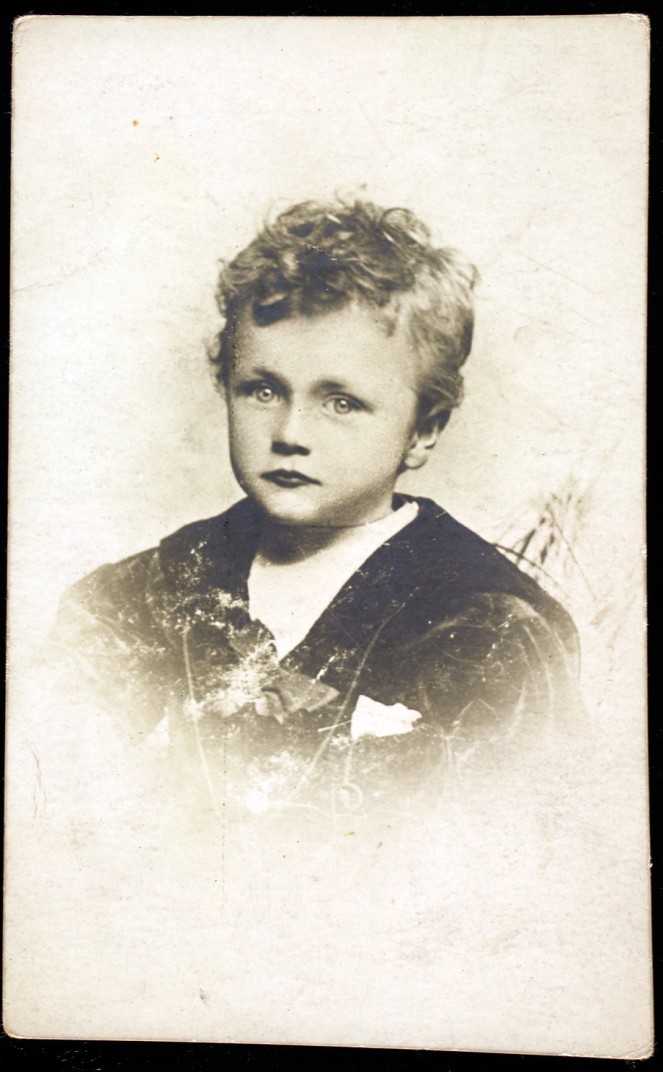 My grandmother is to be credited with keeping Jack Jenkinson's memory alive within the family. She kept two photographs of her first cousin, which she treasured – one of him as a little boy, dressed in a sailor's outfit. In the other – a poignant counterpoint to the first – he is dressed in military uniform. She would show these photographs to us, her grandchildren, and retell the story of his untimely death in the War. The photograph of the little boy was particularly moving, bearing, as it did, no trace of the horrors that lay ahead of him in his short life, and yet inextricably linked to the soldier of the second picture.
My grandmother knew that I was interested in history, especially that of the First World War. So, before she died, she entrusted to me these two treasured photographs along with a table cloth that James Brady, her maternal uncle, had brought back from Valetta, Malta, where he had been stationed.
John Dennis (Jack) Jenkinson
(29 December 1898 - 25 November 1917)
Jack Jenkinson was the eldest son of John Jenkinson and Norah Daly of Ulverston, Lancashire. Both he and my grandmother were directly descended from soldiers who had served in the British army at least as far back as the Peninsular War, many of whom were in the 17th Lancers. Following family tradition, Jack enlisted on 29th December 1912 at the age of only 14 under special War Office authority, joining the 16th Lancers at the Curragh Camp, County Kildare, Ireland. Here he would undergo training until he was old enough to join the regiment in India. He left for India in December 1913 and was drafted into the 17th Lancers in Sialkot, India (now in Pakistan) where he was appointed trumpeter. When the First World War broke out in August 1914, the 17th Lancers were deployed to France with the 1st Indian Expeditionary Force, but because he was so young, Jack Jenkinson was left behind in India and temporarily employed by the Catholic Soldiers' Institute. In December 1914, he was sent back to the Curragh, a difficult journey during which his ship was attacked by the Turkish Army while passing through the Suez Canal. A skilled horseman, upon returning home, he was put to work training other soldiers in horsemanship and breaking in new horses.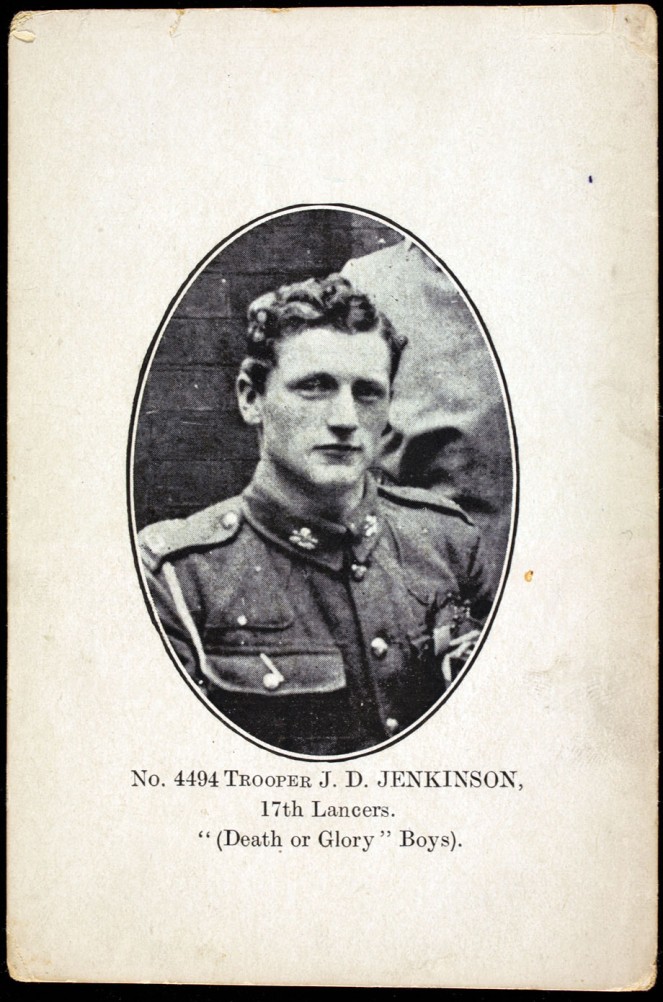 When the Easter Rising broke out in April 1916, he was one of the Lancers put into action against the rebels on Sackville Street, Dublin. According to my grandmother, the events of the Easter Rising marked a turning point in his military career. Because of his Anglo-Irish ancestry and his many relatives living in Dublin, he was deeply traumatised by having to follow orders to shoot at Irish people, "his own", as he saw them, and so, immediately after the Rising, he decided to volunteer for every cavalry draft sent to the regiment at the Curragh. Despite his abilities as a marksman, machine-gunner and bomber, he was again and again refused permission to go to France because of his youth. He was advised to apply for a commission instead, but he refused to do so. Finally on 30th October 1917, after home leave, he was sent to France as part of the D Squadron, 12th Battalion, the King's (Liverpool Regiment). Less than a month later, on Sunday, 25th November 1917, he was dead from wounds sustained during the British advance at the Battle of Cambrai (20th November – 7th December). He lies buried at Gouzeaucourt New British Cemetery in France.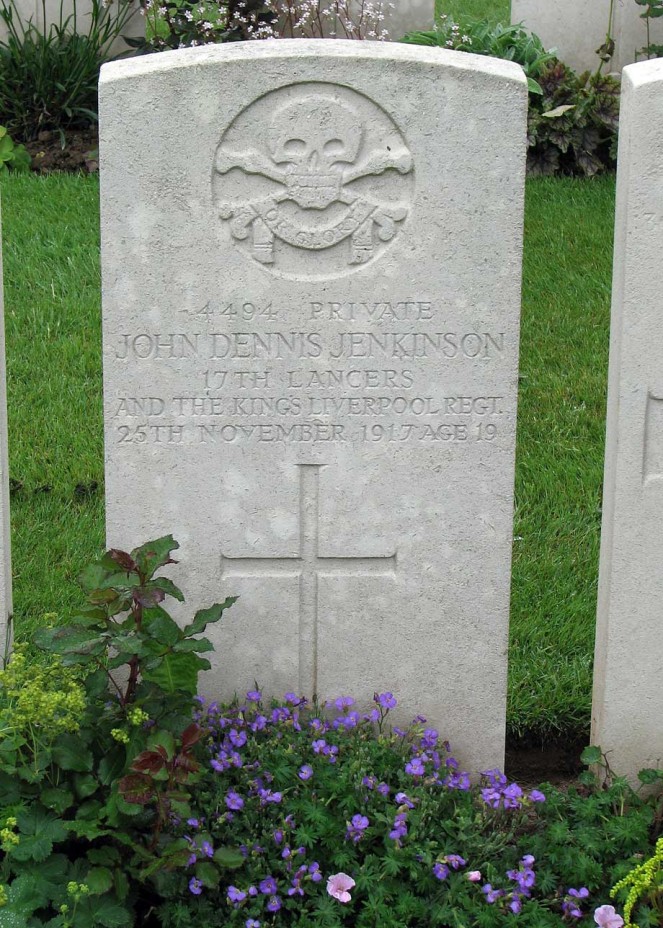 James Brady (1894-19??)
James Brady, my grandmother's uncle, was the son of James Brady and Frances Kelly, of Bride Street, Dublin. Employed in Inchicore Railway Works as a coach painter, he joined the army on 2nd January 1917 at the age of 23. He was responding to the call by John Redmond for the National Volunteers to enlist and fight for the British in order to prove the loyalty of the Irish and thereby ensure that Home Rule would follow the War. He joined the Royal Garrison Artillery and was dispatched to Malta. While he was there, he sent postcards to his sister Frances (my great-grandmother) and on his return to Dublin after the war, he brought her back a beautiful velvet and silver-embroidered tablecloth from Valetta. The postcards are now unfortunately missing, passed once too often from family hand to hand, but the tablecloth remains in the family as a memento of James Brady's service in the Great War.
Acknowledgements:  A special thank you to Sandra Rogers of The War Graves Photographic Project for sending me the photograph of Jack Jenkinson's grave in Gouzeaucourt New British Cemetery, France, and for allowing me to reproduce it here.