Blog Archive
Dublin Lockout Cartoons of Ernest Kavanagh
Friday, 18 January 2013
Part of our BiblioFiles Series - Wednesday 23 January at 7pm
James Curry will be discussing the Dublin Lockout cartoons of EK or Ernest Kavanagh (1884-1916) next Wednesday 23rd in our Seminar Room. EK was an important cartoonist, yet relatively unknown today. He produced hard-hitting satirical cartoons for labour and nationalist newspapers, and also lent support to the Irish suffrage movement, as you can see from the cartoon below.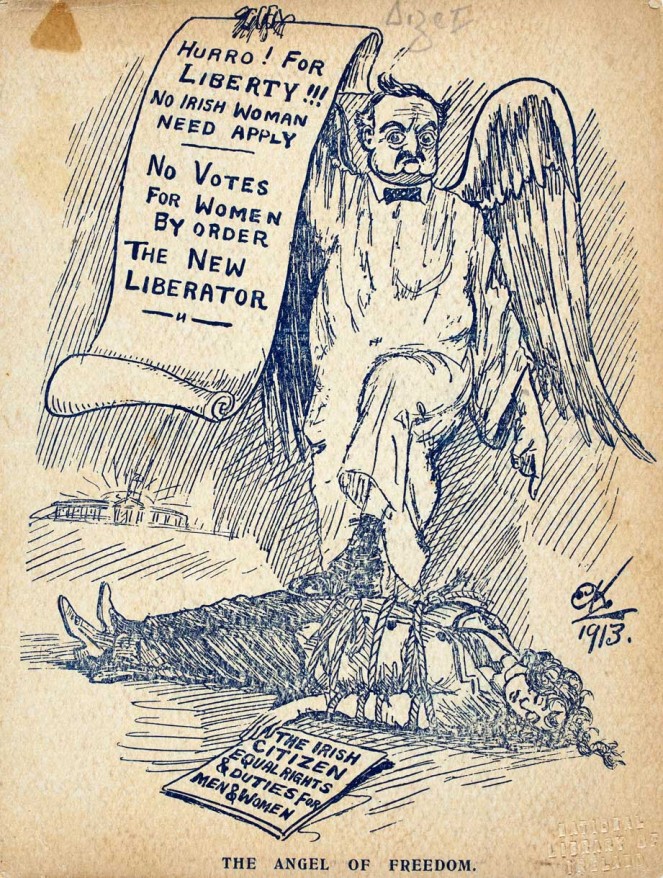 If you're interested - obviously come along to the event! - but there's also some information about EK on the excellent Irish Comics Wiki, or here's a brief interview by Padraig Yeates with James Curry about his book on Ernest Kavanagh Artist of the Revolution. James says:
"I think it's telling that, when Murphy's lawyer was complaining about the public persecution his client [William Martin Murphy] had to face from Larkin during the Askwith inquiry set up to try and bring an end to the Dublin Lockout, he held up to the courtroom The Irish Worker issue from September 1913 that featured a large front page Kavanagh cartoon of Murphy depicted as a murderous vulture as proof."
Kavanagh, a non-combatant, was shot dead on the steps of Liberty Hall on 25 April 1916.