Blog Archive
Acidic patches to zombie whites - recent conservation treatments
Friday, 9 October 2015
The NLI collection is constantly growing. Donations and new acquisitions often need de-framing, conservation treatment or rehousing to ensure long-term preservation and to optimise space and access. It is not always straightforward though, as two 20th century artworks recently showed us to expect the unexpected!
This drawing (PD B113) of Arthur Shields is by Isa MacNie (1869-1958) who signed her work 'Mac'. It features Shields in the title role of "Hyacinth Halvey", a comedy written by Lady Gregory, which he played for over 17 years (1917-34) in the Abbey Theatre, Dublin.
On removing the little drawing from its frame, its physical and chemical damage caught my eye. The paper had several tears which were "repaired" with strips of tape. And when a paper conservator finds tape repairs, alarms bells ensue! In this case, the tape's adhesive was very acidic and degraded. It had caused dark stains of discolouration on the front of the artwork which greatly diminished the appreciation of the drawing. Moreover, with time, the adhesive will continue to damage the paper, causing hydrolysis and oxidation of the cellulose fibres. Within a few decades, the paper will be brittle and will easily break away. Conservation treatment was needed indeed!
Once the drawing was released from its backing board, the adhesive residues were mechanically removed with a crepe rubber (the same material you find in shoe soles!). Next, using different alcohol-based solvents, the adhesive was solubilised into a blotter using downward air flow on a suction table (fig. 2). Following aqueous treatment to remove remaining acidic compounds, the drawing was lined with a very thin Japanese tissue and wheat starch paste to add strength and stability to the paper. After treatment, the unsightly stains were reduced and the paper was no longer so fragile (fig. 4).
I also treated a watercolour by Henry Love, (fl. 1915-1923)  PD 4192 TC  which depicts a wedding inside All Saints' Church, Blackrock, Co. Dublin in 1920. Curiously it is entitled, 'A Peace Wedding'. However, it was the watercolour technique, and not the subject matter that caught my attention!
Watercolours are fugitive; the colours tend to fade in the presence of light and moisture. This artwork needed to be removed from a thick acidic board and moisture is essential to this treatment. This posed a risk to the watercolour layer. The artist's extensive use of white was particularly perturbing. It could have been calcium carbonate or 'chalk white', which is partially soluble in water.
Before beginning any conservation treatment, artworks are always tested and examined technically. On examining the watercolour artwork under ultraviolet (UV) light, I found to my surprise that the white was, in fact, a layer of zinc oxide. The white pigment has a distinct bright yellow green fluorescence under UV light and it gave the happy scene a creepy zombie ambience! (fig. 3). Zinc oxide is an inorganic compound (ZnO) and is known as zinc white or Chinese white. It was a very popular pigment from the 1850s, due to its advantages over the traditional lead white pigment which is toxic to prepare. Zinc white is essentially permanent in sunlight; it will not blacken in sulphur-bearing air, is non-toxic and was much more economical.
Another interesting property of this pigment is that it blocks UV light. Once I removed the acidic backboard, a faint two-toned mirror image of the wedding scene was visible on the back of the watercolour. The zinc white had shielded areas of the paper from the light exposure and protected it from discolouring. In fact, zinc white is used in sunscreen today because it protects against sunburn! Next, the watercolour underwent a delicate float washing procedure on a silkscreen. This avoided damaging the watercolour layer while easing the removal of soluble acidity and discolouration in the paper – a very enjoyable and effective procedure!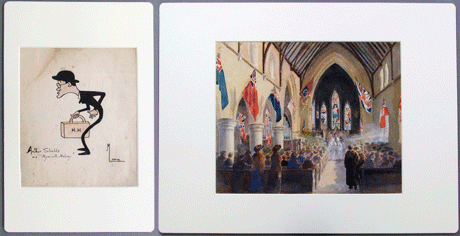 Both these items are good examples of damage caused by improper framing with non-archival materials. Suitable storage of a work of art on paper is crucial for its long-term preservation. All methods and materials for attaching a paper artwork to a window mounting must always be non-acidic and reversible. After treatment, these artworks were adhered with paper hinges and wheat starch-paste into window mounts to allow safe handling.
TIPS FOR YOUR FRAMED ARTWORKS
The primary purpose of window mounting is to separate the artwork from the glazing material covering it. Humidity may cause mould growth or cause the artwork to adhere to the glazing. To be considered archival, the board must be 100% rag, acid-free, 'museum quality' board. No pressure sensitive tape or glues!
For glazing, make sure to use material which will filter out up to 98% of damaging ultraviolet rays. This is imperative to minimise damage caused by exposure to light, because UV light, incandescent and fluorescent light will cause oxidative reactions and chemical changes. As we've seen, light will turn paper brittle, fade pigments, and even accelerate the effects of acids or airborne pollutants. And let's be honest, not all works of art have the privilege of being "protected" by white zinc sunscreen pigment!
Proper placement of the framed material will also contribute to its longevity. Avoid exposure to direct lighting. Try to use low light, and with as little variation in temperature and humidity as possible. Also avoid placing the frame near extreme heat, (such as fireplaces and heating vents), or in areas of high humidity. Do not hang your artworks up in the bathroom folks! This little bit of extra effort on your part will pay off in the long-term preservation of your paper artworks.
Mariam Marco Navarro
Conservation Intern (jointly funded by the Heritage Council)