National Library of Ireland marks acquisition of Bluett photography collection
Collection contains more than 500 signed photographs of Irish actors since the 1960s
26 June 2023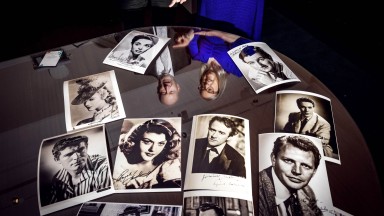 The National Library of Ireland (NLI) has today (26.06.23) announced the acquisition of The Bluett Irish Actor Autographed Photography Collection. The collection contains more than 520 autographed photographs from Irish actors dating from the silent days of cinema right up to the 2020s.
The collection of photographs has been donated to the National Library by Clare collector Liam Bluett, who has been gathering the autographed images since a chance encounter with an Irish actor at an airport in 1964. The actors included in the collection range from the silent movie era right up to contemporary stars and represent artists from all around the island of Ireland. 
The vision of the collection is to celebrate the rich heritage of Irish actors and those of Irish descent across stage, screen, and television, and to recognise their immense impact both in Ireland and overseas. The collection is currently being catalogued and is expected to be available to the public later this year.
Each photograph in the collection will be accompanied by a written biography, bringing a narrative to the visual image. Autographed photographs include Ben-Hur star Stephen Boyd; theatre actor Donal McCann; Roscommon actress Maureen O'Sullivan, who played Tarzan's Jane in the 1930s; Jezebel star George Brent; Hitchcock heroine Madeline Carroll; Abbey Theatre actors Barry Fitzgerald, Arthur Shields, Sara Allgood, and Una O'Connor; star of theatre and film, Cyril Cusack; Siobhán McKenna; Kieron Moore, who starred in Darby O'Gill and the Little People, and star of The Quiet Man, Maureen O'Hara.  Actors who lived in Ireland – such as Robert Shaw, Oliver Reed and Dana Wynter - are also included.
Signed photos of more recent actors also find a place in the collection, such as Murder, She Wrote's Angela Lansbury; Liam Neeson; Saoirse Ronan; Siobhán McSweeney – Sr Michael in Derry Girls; Colin Farrell; Killian Scott from the recent production of Martin McDonagh's The Hangmen, and David Caves of BBC's Silent Witness. Sabina Coyne, wife of President of Ireland Michael D Higgins, who is fondly associated with the Focus Theatre in Dublin, is also included.
The foreword for the collection was written by President Higgins. Expressing his gratitude to Liam Bluett for donating the collection, he said: "This is a most impressive collection, bringing together several generations of talented Irish actors, who have made such a deep and lasting impact on the world of theatre and television.  It is also a valuable reminder of the debt of gratitude we owe to these actors, who have enriched our cultural space, and in doing so have made an immeasurable contribution to our society."
Mr Bluett said: "I am delighted to donate my collection to the National Library of Ireland so it can be preserved and made available for future generations to enjoy. My journey into collecting autographed photographs began in 1964 when I was working a summer job in the Duty-Free Shop at Shannon Airport. There I met Wexford actor Dan O'Herlihy who was returning to Hollywood after a visit home.  I received my first autograph, and the collection was born. 
"Throughout the years I have gathered images through a combination of encounters with the actors myself and from film studios, theatres and through other collectors.   My journey has led me to become acquainted with fascinating characters from all walks of Irish life and learn incredible backstories, which form an important fabric of our history and celebrate our theatrical culture. Now, as I proudly hand the collection over to the National Library of Ireland, I hope it will become an important repository to be treasured by generations to come. I also hope that the work of these actors can be recognised and celebrated in their home places." 
Director of the NLI, Dr Audrey Whitty said: "The NLI is Ireland's proud custodian of many extraordinary national collections and we are thrilled to receive Liam Bluett's extensive photography and autograph collection, which features a diverse range of talented Irish actors from over the last 100 years. The Library endeavors to protect, share and make accessible these treasured images, and the biographical narratives that accompany them, with people across the country and the world. The photographs provide an important insight into the reach and impact of Ireland's acting community over the years and celebrate their great cultural contribution to the nation. I invite the public to come into the Library and experience this wonderful collection, embracing the memories that the NLI is dedicated to keeping safe for generations to come."
The Bluett Irish Actor Autographed Photography Collection will be available to view at the National Library of Ireland later this year.  
ENDS