RADICAL! WOMEN AND THE IRISH REVOLUTION By Julie Morrissy
Pamphlet of poetry from our Decade of Centenaries Poet-in-Residence Julie Morrissy
19 July 2022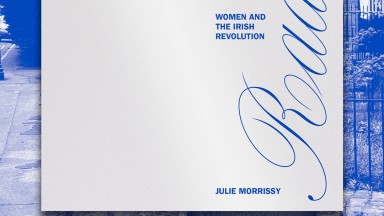 We are delighted to announce the details of RADICAL! WOMEN AND THE IRISH REVOLUTION, a new pamphlet of poems, images, translation, and research notes created by Julie Morrissy.
The pamphlet is a result of Morrissy's time as the NLI's Poet in Residence, an initiative undertaken in partnership with the Department of Tourism, Culture, Arts, Gaeltacht, Sport and Media and the Decade of Centenaries Programme, which ran between June 2021 and June 2022.
The pamphlet is accompanied by a podcast (available here) of the same name that features conversations with leading writers and artists in Ireland, including Susan Cahill, Seán Hewitt, and Alice Rekab.