NLI announces pamphlet of poetry from its Decade of Centenaries Poet-in-Residence Julie Morrissy
19 July 2022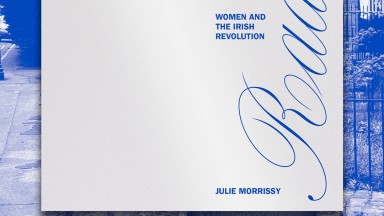 The National Library of Ireland (NLI) has today (19.07.22) announced details of RADICAL! WOMEN AND THE IRISH REVOLUTION, a new pamphlet of poems, images, translation, and research notes created by Julie Morrissy. The pamphlet is a result of Morrissy's time as the NLI's Poet in Residence, an initiative undertaken in partnership with the Department of Tourism, Culture, Arts, Gaeltacht, Sport and Media and the Decade of Centenaries Programme, which ran between June 2021 and June 2022.
RADICAL! WOMEN AND THE IRISH REVOLUTION arises out of Morrissy's research in the Reading Rooms of the NLI, and on walks, bike rides and excursions in her local area and around Ireland. The work draws on Morrissy's collaborative and expansive approach to her work, which explores how poetry can situate us in our daily encounters with the world. Drawing on the intersections of crisis and daily life between 1912-1923, the poems use documentary, archival, and lyric genres to explore the lives of revolutionary women in Ireland.
The pamphlet is accompanied by a podcast of the same name that features conversations with leading writers and artists in Ireland, including Susan Cahill, Seán Hewitt, and Alice Rekab.
Commenting, Morrissy said: "My time as poet-in-residence at the NLI as part of its Decade of Centenaries programme has been generative and exciting for my creative practice. Engaging with the Library's collections has given me a deeper appreciation of Ireland's feminist history and the role of artists and writers during our revolutionary period. 
"The Library's rich and varied collections are invaluable resources. I would encourage creative practitioners of all types to engage with its collections – whether digitally or physically – and discover the unexpected ways in which the Library's artefacts and materials may inspire their own work. I would also like to thank the NLI and the Department of Tourism, Culture, Arts, Gaeltacht, Sport and Media for this opportunity." 
Acting Director of the NLI, Katherine McSharry added: "The National Library of Ireland has always been a place of inspiration, research and activity for Ireland's writers. We were proud to support Julie in her practice through the poet-in-residence scheme, and delighted to be part of the Department of Tourism, Culture, Arts, Gaeltacht, Sport and Media's Decade of Centenaries Artist in Residence programme We are also pleased to have Julie's pamphlet, RADICAL! WOMEN AND THE IRISH REVOLUTION as a valuable record of this important decade of remembering and interpreting and understanding, which will no doubt be consulted itself by future generations."
RADICAL! WOMEN AND THE IRISH REVOLUTION can be purchased from The Library Project, Temple Bar, Books Upstairs, D'Olier Street, and the Museum of Literature Ireland. The pamphlet will be catalogued and digitised as part of the National Library collections.
Translation to Irish by Ciara Ní É, and design, layout, and typesetting by Shauna Buckley.
ENDS