Exhibition | People & Places: Ireland in 19th & 20th Centuries
Date
Running until 2025 | 10am–4pm Monday to Sunday, last admission 3.30pm
Location
National Photographic Archive, Meeting House Square, Temple Bar, Dublin 2, D02 WF85
Price
Free, booking not required
Date
Running until 2025 | 10am–4pm Monday to Sunday, last admission 3.30pm
Location
National Photographic Archive, Meeting House Square, Temple Bar, Dublin 2, D02 WF85
Price
Free, booking not required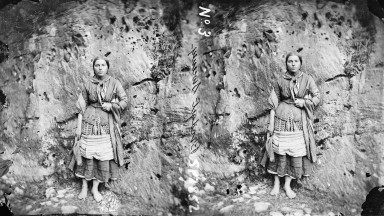 Look back through the camera lens at 150 years of life in Ireland in images selected from some of our most popular photographic collections.
The National Library of Ireland holds over five million photographs in our collections, and they create a unique and fascinating record of life in Ireland.
This exhibition showcases 50 of those photographs, revealing the people and places of the island of Ireland from the 1850s to the turn of the 21st century in images.  
People and Places comprises photographs taken between 1858 – 2001, representing the age of analogue photography in Ireland. Featured collections include the Clonbrock Photographic Collection, Lawrence Collection, Poole Collection, The Wiltshire Photographic Collection and more. Photographs on display include early forms such as salt paper print and stereo-pair up to more contemporary photography.