Director Profile: Dr Audrey Whitty
2 May 2023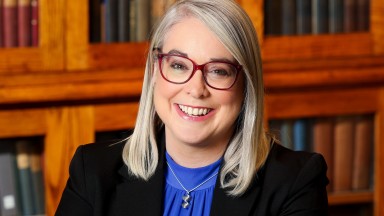 Dr Audrey Whitty was appointed Director of the National Library of Ireland (NLI) in December 2022 and took up the role in February 2023.
Previously Audrey was Deputy Director and Head of Collections and Learning at the National Museum of Ireland and has held various curatorial and leadership positions at the National Museum of Ireland and the Corning Museum of Glass, New York.
A graduate of University College Dublin and Trinity College Dublin Audrey has led on the development of significant exhibitions and research projects including the acclaimed Proclaiming a Republic: The 1916 Rising exhibition, A Dubliner's Collection of Asian Art: The Albert Bender Exhibition, Alison Lowry: (A)Dressing Our Hidden Truths - An artistic response to the Legacy of Mother and Baby Homes and Magdalene Laundries. She is Chair of the Irish Museums Association. She has authored over ninety publications including The Albert Bender Collection of Asian Art in the National Museum of Ireland, which was published by the National Museum of Ireland and Wordwell Books in 2011.
Audrey is excited by the opportunities to shape and share our national collections, build upon the trusted services and grow the research and digital innovation that the NLI delivers, both here in Ireland and across the world. She has strong interest in Special Collections, Prints and Drawings and the NLI's Gaelic manuscripts, and rare printed books collections.
Connect on LinkedIn.
Read the full press release here.