Decade of Centenaries Publish 2023 Programme
27 March 2023
Minister Catherine Martin T.D. visited the National Library of Ireland last week to announce the programme for the final year of the Decade of Centenaries 2012-2023.
2023 marks the final year of the Decade of Centenaries Programme and will cover key centenaries of some of the greatest atrocities of the Civil War, as well as the ending of the conflict.  Key cultural and societal milestones will also be recognised, including the awarding of the Nobel Prize in Literature to Yeats in November 1923 and the centenary of the admission of the Irish Free State to the League of Nations in September.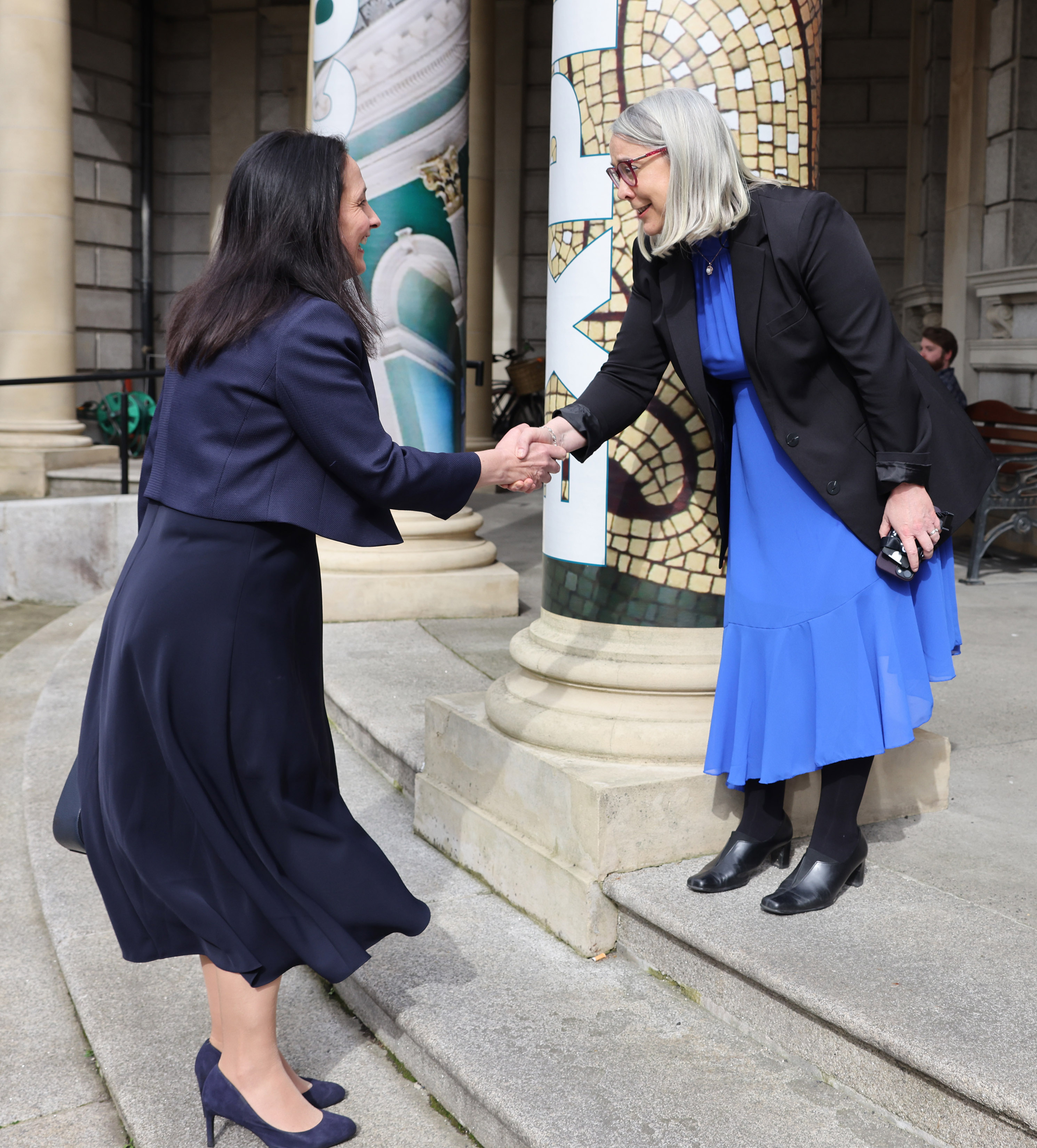 To mark the publication of the programme of events (24th March 2023), NLI Director Dr Audrey Whitty was pleased to welcome Minister Martin, Department for Tourism, Culture, Arts, Gaeltacht, Sport and Media, along with Dr Maurice Manning, Chair of the EAG and Dr Martin Mansergh, Deputy-Chair of the EAG, to view a selection of historical items from the National Collection. The visit acknowledged the vital role played by the National Cultural Institutions in the Decade of Centenaries 2012-2023 from the outset of the Programme.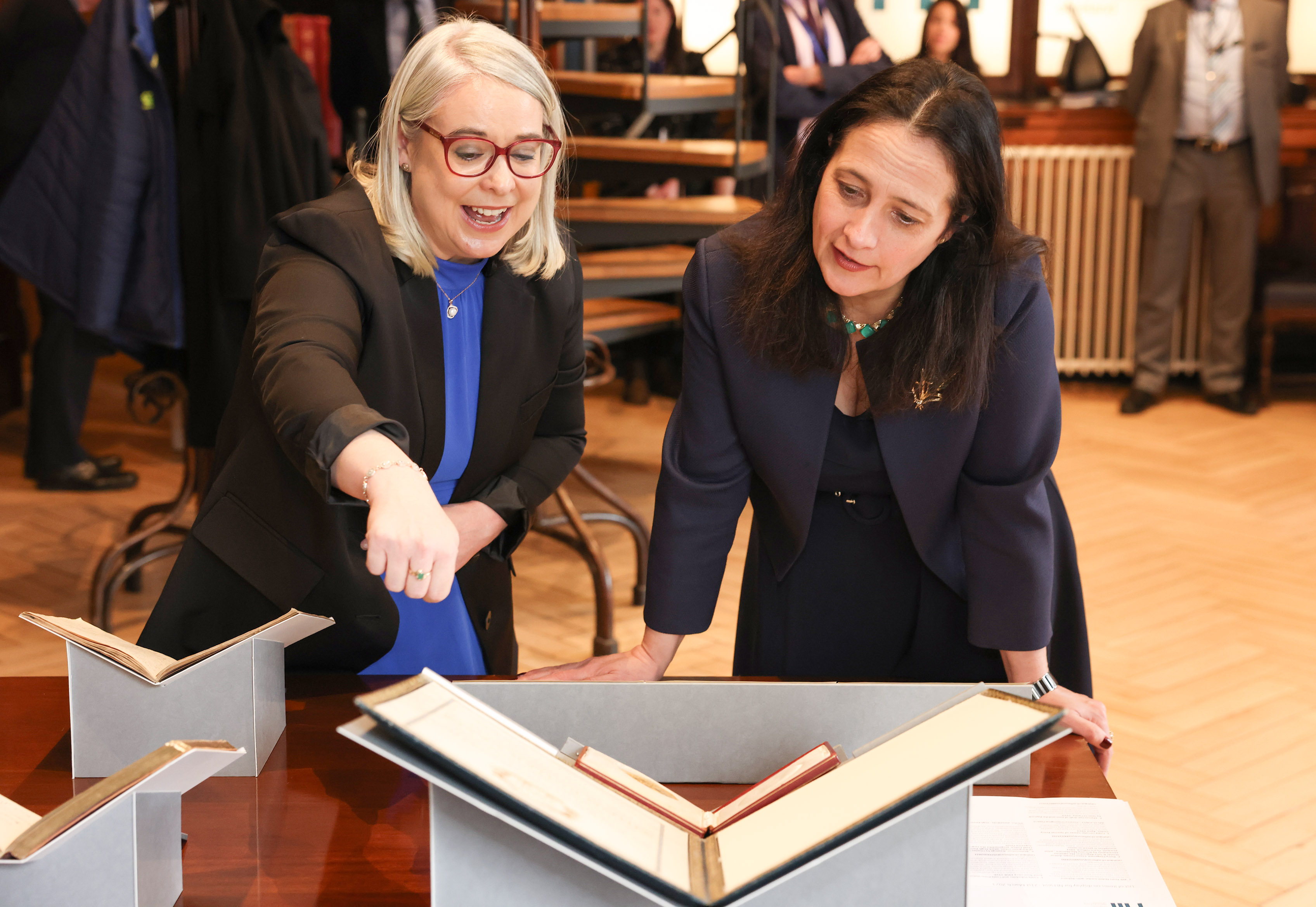 Collection items on display included:
WB Yeats Nobel medal, with diploma.
The Nobel Prize Gold Medal was awarded to WB Yeats in November 1923. The prize was awarded to Yeats 'for his always inspired poetry, which in a highly artistic form gives expression to the spirit of a whole nation'.
Yeats response was 'I consider that this honour has come to me less as an individual than as a representative of Irish literature, it is part of Europe's welcome to the Free State.' catalogue.nli.ie/Record/vtls000729060
Barry Fitzgerald, Eileen Crowe, Arthur Shields & Sara Allgood in The Glorious Uncertainty by Brinsley MacNamara , artist Plunkett, Grace Gifford, 1923.
Inscription in pencil on verso: Editor "Dublin Magazine" if unsuitable, please return at once to Mrs. Joseph Plunkett, 49 Philipsburg Avenue, Fairview, Dublin (Stamps enclosed). Grace Plunkett, the artist, was the widow of 1916 Signatory Joseph Plunkett. catalogue.nli.ie/Record/vtls000224744
Copy circular Letter of Special Army Order, April 1923.
Special Army Order dated 27 April 1923, issued by the Irish Republican Army, regarding suspension of offensive at noon on 30 April 1923. This ceasefire signaled the end of the Irish Civil War. (MS 31,258/12 – Florence O'Donoghue Papers).
Manuscript draft of Juno and the Paycock by Sean O'Casey, 1923.
Contains first drafts of Acts I and II, and fragments of Act III, a synopsis of the play set during the Civil War, along with numerous listings of characters, notes and comments, with two pencil sketches of Captain Boyle's head in profile. catalogue.nli.ie/Record/vtls000731617
Cuala Industries and Cuala Press visitors' book from circa 1908-1928.
Containing approximately 1,900 signatures mostly with addresses, including those of WB Yeats and Maud Gonne, Jack B. Yeats, Sarah Purser, Elizabeth Bowen, Lady Augusta Gregory, George Russell, Thomas MacDonagh, Constance Markievicz, Eva Gore-Booth, Florence Farr, Isabel, Lady Aberdeen, Mainie Jellet, Susan Mitchell, George Bernard Shaw and many hundreds of important cultural figures from Ireland, England, America and further afield. catalogue.nli.ie/Record/vtls000302833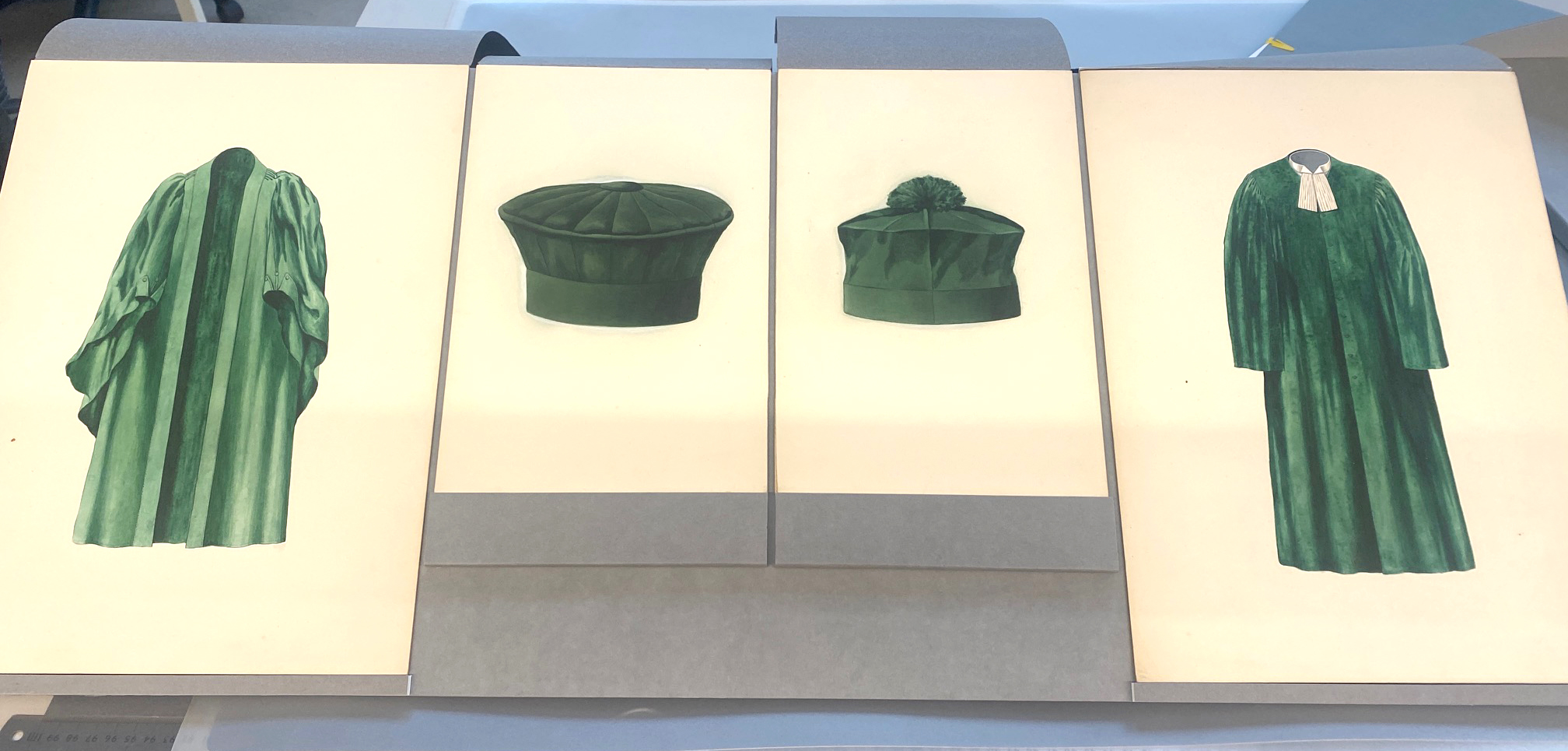 Watercolour drawings by Charles Shannon of the green robes, which Hugh Kennedy, as Chief Justice, proposed for the new Irish Supreme Court.
Hugh Kennedy [1879-1936], first Attorney General and first Chief Justice of the Irish Free State, a small archive of documents, letters, drawings and photographs.
This is a collection of coloured watercolour drawings of the green robes that Kennedy as Chief Justice proposed (at the suggestion of WB Yeats) for the new Irish Supreme and High Courts, supposedly based on the robes worn by the Gaelic Brehons. The proposal was not welcomed by Kennedy's colleagues, and when Yeats proposed a Senate motion on the issue, the division was lost by one vote.
(PD Acc. 2022/06 (1) – Hugh Kennedy Papers).
A computer screen displaying an archived website from our Digital Collections relating to the Decade of Centenaries.
The NLI Web Archive currently contains over 100 collections and over 4,000 selected Irish websites that are archived and openly available online to everyone. This continuously growing archive captures the contemporary online life of Ireland and includes collections reflecting Irish literature and language, politics, society and culture as well as websites of central and local Government and Government agencies, including their online publications. The archive has two collections which are of particular relevance to the DOC and from which the selection was taken, the Decade of Centenaries collection and the Remembering 1916, Recording 2016 collection. The Decade of Centenaries official programme website has been archived many times over the years.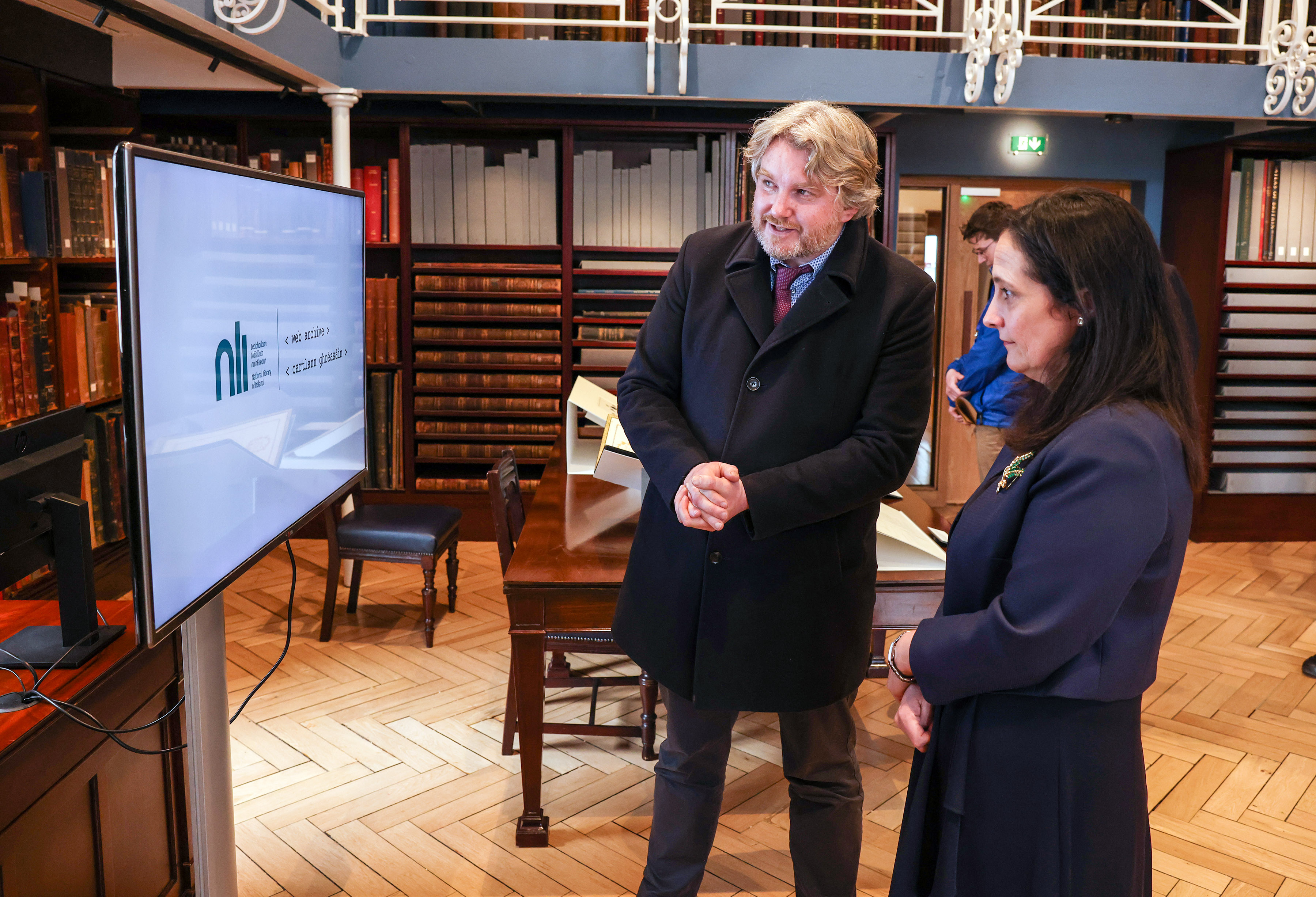 The DOC 2023 Programme is based on the guiding principles set out by the Expert Advisory Group (EAG) on Centenary Commemorations, and is informed by the views of the All-Party Consultation Group on Commemorations. State partners, local authorities, the National Cultural Institutions, institutions of learning, custodians of records, media and broadcasting organisations, artists and creative communities will continue their leading role in developing and delivering programme elements that support respectful public engagement with these centenaries and broader themes.  Historical accuracy, academic integrity and archival discovery are again key tenets of the commemorative programme for this final year. 
The programme of events presents a range of engaging and accessible initiatives and projects to commemorate important centenaries occurring this year.
Highlights include:
Formal ceremony for a healing moment of reconciliation, remembering everyone who lost their lives in the Civil War
New three year programme and €3.6m investment in the Virtual Record Treasury of Ireland
New digital mapping project with UCC mapping Irish Civil War fatalities with accompanying research and outreach programmes
Programme to mark Ireland's entry to the League of Nations including a new exhibition in the National Archives
New partnership with the Yeats Society commemorating WB Yeats winning the 1923 Nobel Prize in Literature
Continued focus on community-led commemoration, with €1.8m investment in local authorities to support remembrance of local centenaries.
The full programme is available in Irish and English here
Marking the publication of the Programme, Taoiseach Leo Varadkar T.D. said:
"Over the past 10 years, as a people and a nation, we have endeavoured to move from memory and contested history – often still deeply personal and deeply-felt – to mature reflection and historical exploration of the events that have shaped our country. It has not always been easy or uncontested; but we have striven to better understand, and to acknowledge that we may share a common history, but not always a common memory or understanding of events and their consequences. 
Thank you to the Expert Advisory Group on Centenary Commemorations for their guidance throughout this period, the All-Party Consultation Group on Commemorations for their input, and also the various stakeholders, with particular thanks to the local authorities partnering with their communities. Together they have worked to ensure a meaningful, sensitive and nuanced programme to engage the public in this complex period of history. Community led commemoration continues to be a cornerstone of the State's approach to commemoration."
Tánaiste Micheál Martin T.D. said: "I am pleased to have contributed to some of the key centenary events over the past two years and have been struck by the maturity of the debate, the breadth of the Programme, and the willingness of Irish people to embrace the stories of our past.
I would like to thank all who have contributed so thoughtfully and expertly to these series of events marking this period. This year we reflect on some challenging centenaries, but we are supported in this reflection by the work of our institutions of learning, historians and archivists, national cultural institutions, local authorities, artists, and creative communities.  And this year includes the centenary of Ireland joining of the League of Nations, which was a significant and hugely positive step forward by the State into the international arena. Over the past 10 years, the impacts from engagement on centenaries have been immense – historically authentic, citizen-focused, imaginative initiatives, aimed at engaging diverse audiences of all ages and traditions." 
Minister for Tourism, Culture, Arts, Gaeltacht, Sport and Media, Catherine Martin T.D. said: "I would like to thank sincerely all of the stakeholders who have contributed so enthusiastically and thoughtfully throughout the Decade of Centenaries, and particularly those leading initiatives in this, our final year.  Together, we have addressed the complexity of our history and the challenges linked to commemoration, and we will continue to do so this year as we navigate through this sensitive final phase, marking the emergence of an independent Irish State in the midst of a traumatic Civil War.  While perspectives may have varied, we have engaged in respectful debate and discussion, supported by a wealth of scholarship and material from national and local archives, including newly digitised sources.  Our artists have also immersed themselves, with new and established audiences, in exploring the historical events and themes under the Creative Imagination Strand of the Programme.  This element is further supported in the 2023 Programme through ART:2023, the Yeats Society Programme marking the award of the Nobel Prize in Literature to WB Yeats in 1923 and continued support for the Markievicz Award and the Artist-in-Residence scheme."
Dr. Maurice Manning, Chair of the EAG, said: "The past Decade has been a rich one in Irish historiography.  If we judge the Decade in terms of new research and publications, we saw the emergence of a gifted, innovative and courageous new generation of scholars, the great broadening of boundaries of topics hitherto ignored or avoided - the role of women, the treatment of minorities, difficult social and societal issues, arts and culture, to name but a few.  Much of the work to date has been truly ground-breaking - and it will continue this year and beyond.  My colleagues on the EAG, including the late and greatly missed Dr. Éamon Phoenix, were pleased to provide support and guidance in this important Government Initiative."
Dr. Martin Mansergh, Deputy-Chair of the EAG said: "The Decade of Centenaries has not been about establishing an official State history or a new orthodoxy. It is freely acknowledged that there are many different narrative threads. The Decade has been about extending sympathies derived from a broader understanding, without requiring anyone to abandon their loyalties. There has been no attempt to hide or gloss over the costs of revolution, amidst the real achievements to be celebrated."
Dr Audrey Whitty, Director of the National Library of Ireland, said: "The period 1912-1923 shaped Ireland forever. As Ireland's memory keeper, the National Library of Ireland has played a vitally important role in initiating dialogue and engagement about our past and present. The powerful impact our collection continues to make, and the mobilisation of our national collection in a collaborative and inclusive manner to explore all histories of 100 years ago, serves to legitimise a range of narratives and voices often excluded. This imperative supports and demonstrates the strategic aims of the Department of Tourism, Culture, Arts, Gaeltacht, Sport and Media that culture unites us, provides refuge, as well as space for us to contemplate the future we wish for our country and its relations with the world."
Photos by Marc O'Sullivan.