NLI Publishes First Digital Preservation Policy
Thursday, 2 November 2023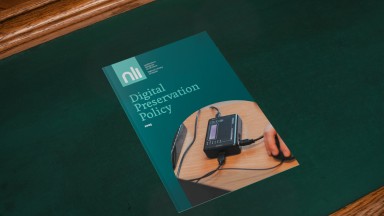 Introduction to Digital Preservation:
It is a significant milestone for the NLI, as an Irish national cultural institution, to introduce our first Digital Preservation Policy. This policy represents a formalisation of existing and emerging practices within the NLI. It is also an important recognition of the need to continuously improve our digital preservation capability to care for our digitised and born-digital collections including 12 years of born-digital web archive collections that document the online life of Ireland.

Our mission to collect, protect and share the recorded memory of Ireland is just as relevant today as it was in 1877, although the world around us has changed. The nature of our collections in terms of format has evolved, but our mission is constant. We collect digital because the evidence and stories and memories of Ireland are now also found in digital form and collecting digital is part of the NLI's commitment to ensure that our collections are representative of Ireland in all its diversity. This is something that the NLI, with its extensive collecting remit, is uniquely positioned to undertake.

The NLI has created digitised material for more than two decades, and we now have over 169,000 items (almost 900,000 images) available to view online through our catalogue at https://catalogue.nli.ie/ 

 
Digital collecting:
Digital Collections have been archiving Irish websites on a selective & thematic basis since 2011. To date, we have over 130 collections available to search & use from our website. These range from every General, Presidential, Local and European election since 2011 to collections representing life across Ireland, including collections dedicated to Ageing in Ireland, Agriculture, Literature, Young People, Religion, Irish Artists & Theatre, Mental Health and the GAA.

Since 2017, we have been working on a series of pilot projects in relation to unique born-digital archival material. This archival material contains unique content that exists in digital form only, and includes different types of content such as personal and organisational collections in a variety of formats such as Microsoft Word documents, digital photographs, spreadsheets and video. Our very first acquisition was the Marian Keyes Mystery of Mercy Close Collection and you can see more about our digital collecting activities here. Other acquisitions include the Yes Equality collection, the Census of the Heart collection and the #WakingTheFeminists collection.
The importance of Digital Preservation:
Digital Preservation has an important role to play in ensuring continuity of care and access to all of this content. However, it also presents specific challenges.
There is a lot of digital content. The volume of material that we can collect is on a scale that is new to us as an organisation and a challenge we are now beginning to embrace.

Digital material is inherently fragile. We have possibly all felt the fear of a lost or damaged mobile phone, which contains precious photographs that we thought might be there forever but are now sadly gone. The good news is digital preservation helps us deal with these challenges, and is ultimately about providing long term access to that content.

The official definition found in our policy is: 
"Digital Preservation refers to the series of managed activities necessary to ensure continued access to digital materials for as long as necessary".

The work of everyone in the NLI is ultimately about providing access to the amazing collections in our care, sharing them in our reading room, through exhibitions and events, and online through our website, and our catalogue. The policy confirms that we as an organisation view the need for continued access and re use of our collections as the primary driver for digital preservation. The NLI actively engages with donors, depositors and creators who help us build our digital collections in order to achieve the best possible preservation, access and re-use outcomes. The policy also confirms the need for collaboration both across the organisation and through relationships built up over time by our staff with many external preservation networks. All of this is really in recognition of the fact that no one organisation can carry the burden of digital preservation by itself.
Digital Preservation Policy 2023
The new policy outlines the principles, roles and responsibilities for digital preservation activities within the NLI. It operates in sync with our overarching NLI Strategy, and will inform policy and processes and guide decision-making. Importantly, the policy outlines the risks inherent to collecting digital material and making it accessible. It is driven from our experience of working with digital material, but naturally has some aspirational goals to highlight where we want to go. Rather than let it be a document that sits on a shelf, we know that we will use implementation of the policy to continue to be the basis for evaluating and benchmarking the overall maturity of the NLI's current approach to digital preservation against community norms and good practice. All of which means that we can continue to collect, protect and share the recorded memory of Ireland in whatever form it is in.

The policy is a relatively short read so please have a look here and get in touch with any comments or questions to: digitalpreservation@nli.ie.