'Seamus Heaney: Listen Now Again' Exhibition Extended to 2025
28 July 2023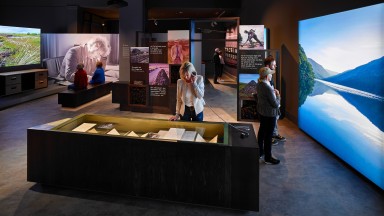 We are delighted to announce that our exhibition 'Seamus Heaney: Listen Now Again' has been extended until December 2025.
More than a quarter of a million visitors (both in person and online) have been welcomed to the exhibition since it opened at the Bank of Ireland Cultural and Heritage Centre in July 2018. A partnership project between the National Library, the Department of Tourism, Culture, Arts, Gaeltacht, Sport and Media and Bank of Ireland, the exhibition draws on the NLI's extensive archive of Heaney documents, and features Heaney's original manuscripts, his writing desk, letters, unpublished works, diary entries, photographs, notebooks, and multi-media recordings. 
Dr Audrey Whitty, Director of the National Library of Ireland said: "We're deeply grateful to the Heaney family for their continued generosity and constant guidance. Thanks also to Minister Catherine Martin and her Department and the Bank of Ireland for their continued support for and engagement with the National Library. We are thrilled that we can continue to welcome everyone who comes to learn, be entertained and inspired."
The exhibition will be closed Saturday 5 August and every Monday from 7 August until mid-October to facilitate a curatorial review of the exhibition artefacts. Please keep an eye on our website and social media channels for updates to opening hours.