Blog Archive
Tracing Thomas Kenny
Thursday, 14 May 2015
by Sam McGrath, Cataloguer, Joseph Holloway Collection
While cataloguing 19th century books, you can occasionally come across a little hand-written inscription that will make you pause for a moment and reflect on life's journey. This was certainly the case when I opened the non-descript 'Fireside tales for the young - Vol. 3' by Sarah Stickney Ellis (NLI Call No. 15A 629) and was met by two poignant messages.
The first one read :
"Thomas Kenny is my name
and on this book I write the same
and when I am dead and in my grave
this little book will tell my name
when I am quite forgotten".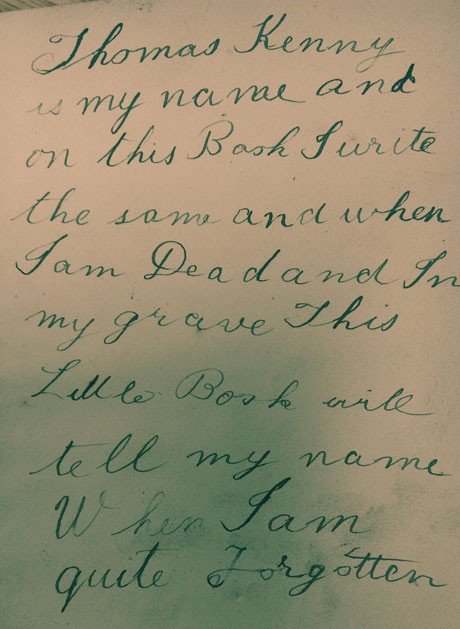 A very sobering verse to read on a Monday morning. Thomas Kenny is certainly dead and buried but it's nice to think that by virtue of this blog post and the fact that you are reading this means that he hasn't been quite forgotten.
His message is an example of a book rhyme. These short poems were written inside the front cover of a book to discourage theft or in this case, to acknowledge ownership. They were particularly common during the 18th and 19th centuries before the advent of book plates.
One of the most popular variants of the book rhyme was included by James Joyce in his debut novel "A Portrait of the Artist as a Young Man". A boy called Fleming, a classmate of Stephen Dedalus, took a book belonging to Dedalus and "for a cod"  wrote:
"Stephen Dedalus is my name,
Ireland is my nation.
Clongowes is my dwelling place
And heaven my expectation."
Back to the book in my hand and it would seem that Thomas Kenny wasn't too keen on his first description as he decided to write a similar one on the next page.
"Thomas Kenny is my name
Browns cott. my dwelling place and on this book I write the same
When I am dead and in my grave
this little book will tell my name when I am quite forgotten.
T Kenny 19/15(sic)/10".
Thomas reveals that he lives on a street called Browns Cottages and that he wrote this message in 1910. I expect he meant to write 19/05 (19th of May) and not 19/15 but I am open to other interpretation.
Up to this point, there was no proof to suggest Thomas Kenny was living in Dublin but luckily for us he wrote his full address on a following page:
"1 Browns Cotts
 off Pembroke Street, Dublin"
Browns Cottages, now demolished, was a small street of about 11 houses located off present day Laverty Court and Quinns Lane. They are in turn situated off Pembroke Street and Fitzwilliam Square, Dublin 2. A less than ten minute walk from the National Library.
Thanks to the 1911 census, it only took a couple of seconds to find out that there were 423 men with the name Thomas Kenny in the island of Ireland in that year. Of these, 64 lived in Dublin. Focusing in on Browns Cottages, there were three Thomas Kenny's living on the street in 1911. The census was taken only a year after the messages were written so you'd expect the corresponding details to be reasonably accurate. Unfortunately, it's not clear exactly which Thomas Kenny in the Census was the author.
There is an infant Thomas Kenny living at 1 Brown's Cottages which matches the address written inside the book. At number 1.2 [See http://www.census.nationalarchives.ie/pages/1911/Dublin/Mansion_House/Brown_s_Cottages/87409/]
Thomas (age 2)  was living with his three siblings and his parents Elizabeth (30) and James (36) who had been married for nine years. Elizabeth worked as a Laundress while her husband James was a General Labourer. Both were from Dublin and the family were all Catholic.
While the address and name matches, this Thomas Kenny would have been only a year old at the time the book rhyme was written. This would rule him out.
A few doors down at no. 3.1 Browns Cottages [ See - http://www.census.nationalarchives.ie/pages/1911/Dublin/Mansion_House/Brown_s_Cottages/87439/] lived a schoolboy Thomas Kenny (7) with his father also called Thomas (44), a carpenter, and his mother Deborah (38) who worked as a laundress. The Dublin-born couple had been married nine years and were Catholic.
Within the whole family, Thomas Sr. was the only one able to read and write according to the census. Thus making him the only literate Thomas Kenny living in Brown's Cottages. He would be the most likely candidate but the address does not match.
It's certainly not a straightforward case and the little mystery has not been solved. Your guess is as good as mine. One possibility is that patriarch James Kenny at no.1 wrote the messages on behalf of his son Thomas. The book would have been a significant present for the young boy and father James wanted to inscribe the book accordingly.
Another prospect is that another family member by the name of Thomas Kenny had been living at no. 1 Browns Cottages in 1910 but had moved out or passed away by the time the census was taken in April 1911.
Regardless of which Thomas Kenny it was, nothing should be taken away from the messages or what we can read into them. I'd imagine he would be pleased with the idea that he and his words are being talked about 95 years later.
Without wanting to read too deeply into a little message that half rhymes, I'd argue that the thought behind Thomas Kenny's first message was : "Life is short. We are all going to die eventually. Try to do something, even if it's writing a few lines in a book, so your legacy is not forgotten".
This all-important communiqué from beyond the grave reminded me of the memorable scene in the film Dead Poet's Society (1989) when English teacher John Keating (played by the late, great Robin Williams) takes his class over to a cabinet full of old photographs of former students and school athletes. He beckons them to examine the aging portraits : "Listen real close, you can hear them whisper their legacy to you".  As the boys lean in closer and stare intently into the eyes of the dead and forgotten faces, Keating begins to whisper: "Carpe. Carpe Diem. Seize the day boys, make your lives extraordinary."
Thomas Kenny may not have led an extraordinary life. He probably didn't change the world. But he did manage to carve out a small legacy for himself by writing those words. So while there may not be a statue or a street or a plaque dedicated to the memory of Thomas Kenny, he did leave us with a memorable note in a dusty book and because of this and a little bit of luck - we're still talking about him today.