Blog Archive
An Introduction to Prints and Drawings
By Ciara Kerrigan, Assistant Keeper I - Special Collections and Office of the Chief Herald
22 May 2020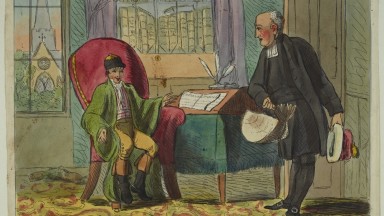 The NLI may be known for our collection of books, but did you know that we house more than 100,000 prints and drawings?
Our collection is a visual record of Ireland from the 17th to the 21st century, and documents the lives of past and present Irish people and the landscapes they inhabit. Specific collections include cartoons and satires, book illustrations, topographical prints and drawings, architectural drawings and portraits.
 
Portrait prints are particularly well represented. The collection began in 1863 when a successful and beneficent collector, Jasper Joly, donated his amazing collection of maps, manuscripts, prints and drawings, books and sheet music to The Royal Dublin Society, on the basis that it would, in turn, be donated to an Irish national library, if one were ever founded.
 
As such, when the National Library of Ireland was created in 1877, Joly's treasures were its first and core collection. A few decades later, his prints and drawings found their perfect match in the devoted librarian Rosalind Elmes, who catalogued and cared for them.
 
Known simply as the 'Elmes Portraits' this collection of engraved Irish portraits and original drawings consists of nearly 3,000 images of 1,100 figures from Irish history. Portraits include society hostesses, actresses, faith healers, politicians, writers, scientists, and patriots. Images from the portraits collection are available to browse on the online catalogue.
 
And for some of our prints and drawings of literary figures, and famous and infamous women, take a look at our highlights below.
Literary Figures
Jonathan Swift, D.D. (1667 – 1745), Dean of St. Patrick's Cathedral, Dublin essayist, political pamphleteer, poet, and the foremost prose satirist in the English language. In this print, entitled 'Dean Swift and the Post Boy' (featured above), Swift is delivering a turbot to a post boy who is seated in his chair. On the writing desk in front of the post boy is a piece of paper bearing the title "Gulliver's Travels". To find out more about this curious situation, take a look at the text below the image in our online catalogue here.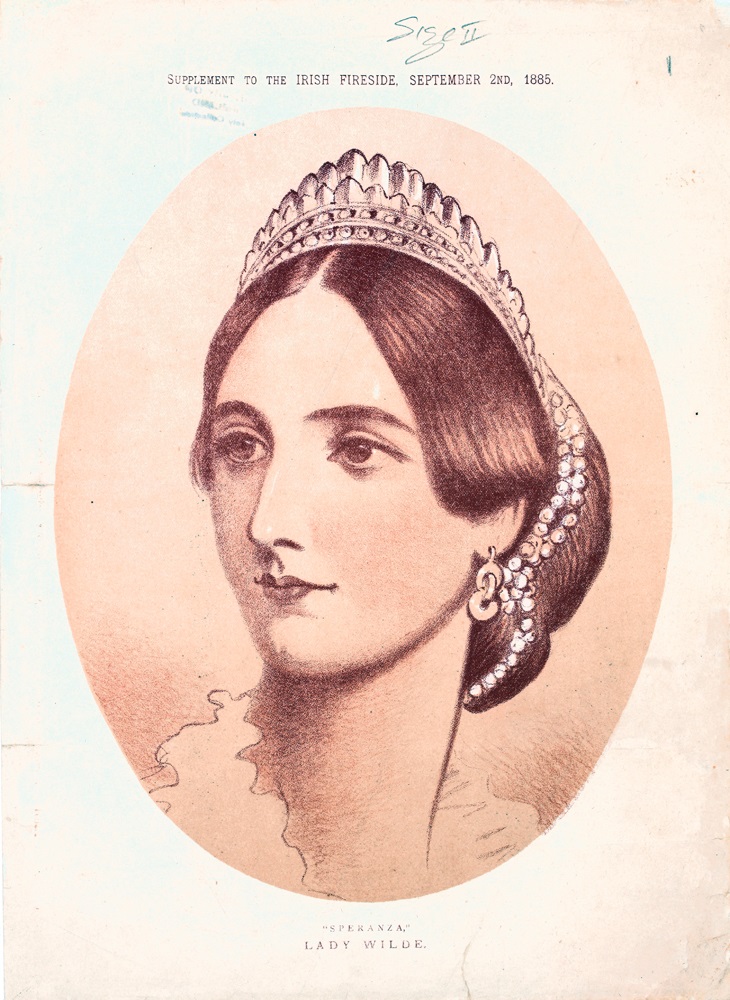 Jane Wilde, also known by her pen name "Speranza" was a writer, translator, poet and Irish nationalist. Wilde's work ranged from a poetic response to the Famine, highly critical of the landlord class to which she herself belonged, which appeared in The Nation newspaper in 1847, to a collection of Irish folktales and folk beliefs, Ancient Legends, Mystic Charms, and Superstitions of Ireland. Click here to take a closer look in our catalogue.
Famous and Infamous Women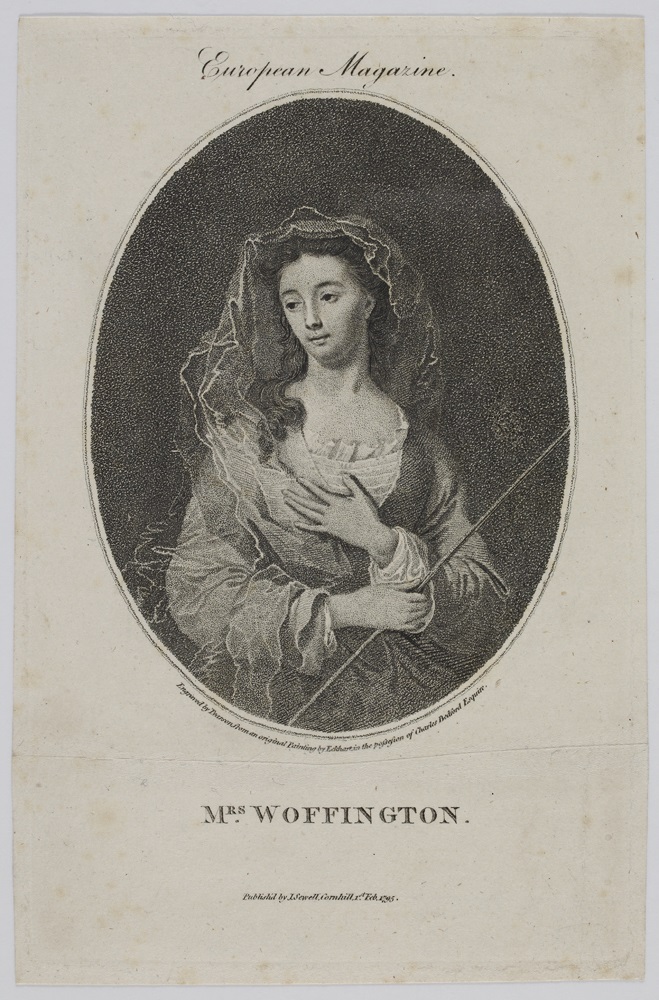 Margaret ("Peg") Woffington was born in Dublin around 1720 to a bricklayer and his wife and went on to become one of the foremost actresses of the 18th century. Talented, beautiful and witty, she never married, while enjoying many high-profile love affairs during her tragically short life (she died in 1760). Click here to see her engraved portrait in our online catalogue.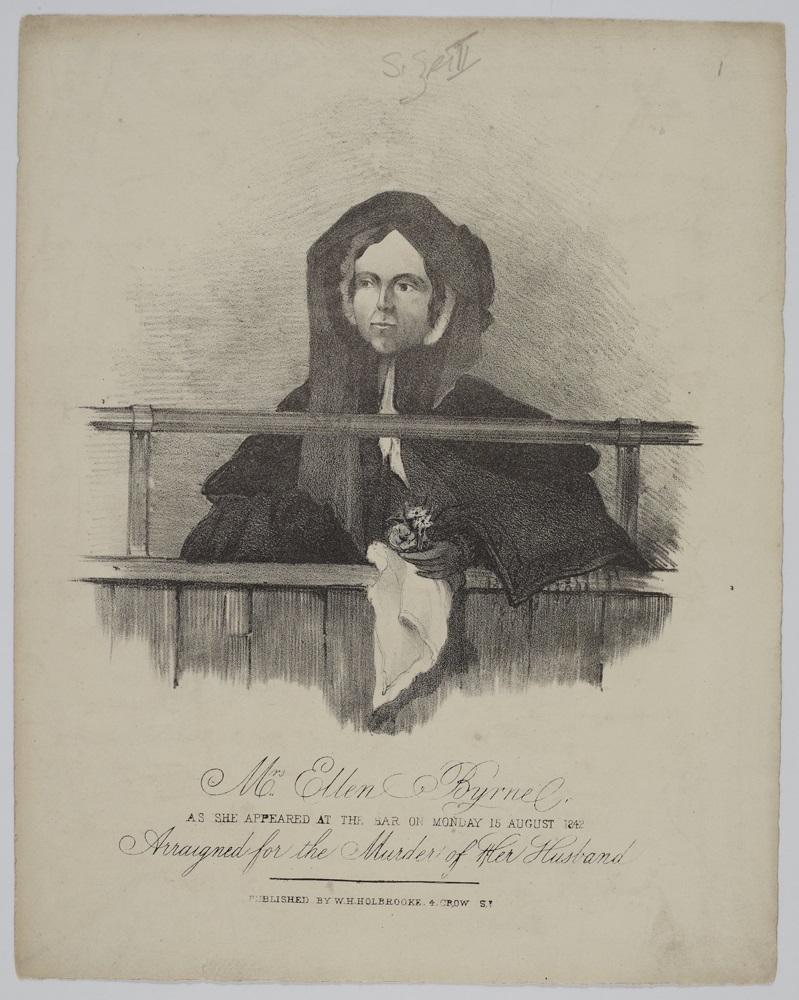 Ellen Byrne The infamous join the famous, with portraits such as that of Ellen Byrne. Byrne was the focus of a sensational trial in the mid 19th century for the alleged murder of her husband, whose body was found after a number of days in the room they shared. She was acquitted, to the great disappointment of the crowds who surrounded the courthouse during the trial. This print shows her as she appeared at the bar on Monday 15 August 1842, arraigned for the murder of her husband. You can zoom into the image in our catalogue here. 
-----
This story first appeared as a NLI Newsletter in May 2020.