Blog Archive
Remembering 1916, Recording 2016: Let's talk about web archiving!
Friday, 24 June 2016
by Maria Ryan (2016 Web Archivist)
Since our last blog, we have successfully completed four major crawls for our project "Remembering 1916, Recording 2016". That's almost 280 more websites for our 2016 web archive.  In our last blog, I said I would take you through how we archive the web, our main processes and how we present our archived websites to our users.
There are four main stages in the web archiving process. First up is the selection process. The National Library undertakes thematic crawls, which is to say we crawl websites according to certain subjects or topics of relevance to our collection development policy. This year, as you know from our previous blog, we are capturing and preserving Irish websites and websites of Irish interest on the 100th anniversary of 1916 and the key events of that year, in particular the 1916 Rising and the Battle of the Somme. We choose websites that reflect Ireland in 2016 and that will tell the story of this year to future generations. This year, we looked firstly to the official commemoration programme, identifying the key events and who was involved. Some examples of these websites include government departments, local history groups, cultural institutions and events organised by the Irish diaspora. In addition to those websites we identified we also collaborated with over 70 experts. These included local historians, relatives of those involved in the Easter Rising and also professionals from libraries, archives, museums and galleries. We also engaged with all levels of the education sector from primary to post-primary and third level. We received significant input from historians and also experts from other fields including political studies, music, the Irish language, English, drama and theatre studies and digital humanities. We received over 130 suggestions in total and these helped us build an inclusive and wide ranging web archive. Later in the year, we will be asking your opinion on what websites you feel reflected this centenary year.
We were delighted to archive the ICA's website. For this centenary year, they organised a  special commemorative event that was held in March. The National Library of Ireland also holds their archive; it is wonderful to bring the physical and the digital together.
The next step is to seek permission from the website owner, outlining our project and what we hope to achieve. We have received an overwhelmingly positive response this year. Many of those who we contacted recognised the need for such an archive in Ireland and were thrilled to have their work captured and preserved in the National Library of Ireland for many generations to come.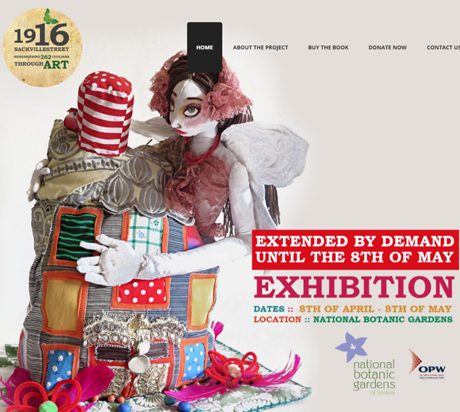 1916 Sackville Street is an inspiring project that we are thrilled to have in our web archive.  It remembers and reflects on the many civilians who lost their lives during Easter Week.
Our technical partners, the Internet Memory Foundation carry out the web crawls on our behalf. We schedule a time and date for crawling with them and provide them with the list of websites we wish to archive. Once the crawl is carried out, they assess the archived version of the website from the point of view of quality assurance. We also participate in quality assurance, checking how the archived copy of the site looks and feels. A copy never behaves exactly like the live version, but we aim to get as close as possible. We receive regular copies of our archived data from IMF to ensure the digital preservation of these websites.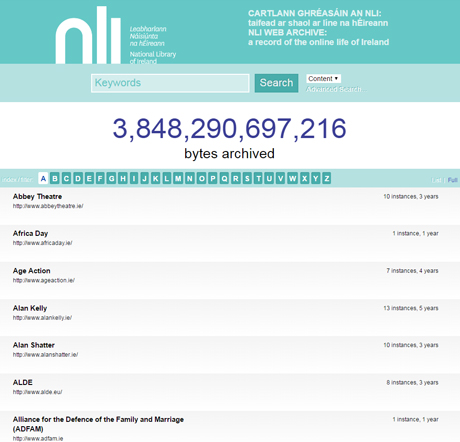 Search our A-Z list of websites we have archived to date.
Finally and most importantly, we provide online access to the web archive. The wonderful thing about the web archive is that it is freely available to anyone, anywhere in the world. It is important to us in the National Library of Ireland to make available to our users as much as we can for those who cannot visit us in person. You can search our online catalogue, or browse our A-Z list of websites captured and find out more about our different collections in our web archive.   We want everyone to use and enjoy our web archive, whether you are studying history, politics, are a teacher or a lecturer, or you just fancy a snoop through the websites of yesterday.  Websites collected and archived this year will be going live throughout the year; you can keep up to date with our web archiving activities on Twitter and Facebook. You can also join us in person in the National Library, as part of our Heritage Week programme, on August 23rd when we discuss web archiving in more detail. For more details, please visit our website.
Maria Ryan
2016 Web Archivist
Digital Collections