Blog Archive
Poetry Aloud
Friday, 14 October 2011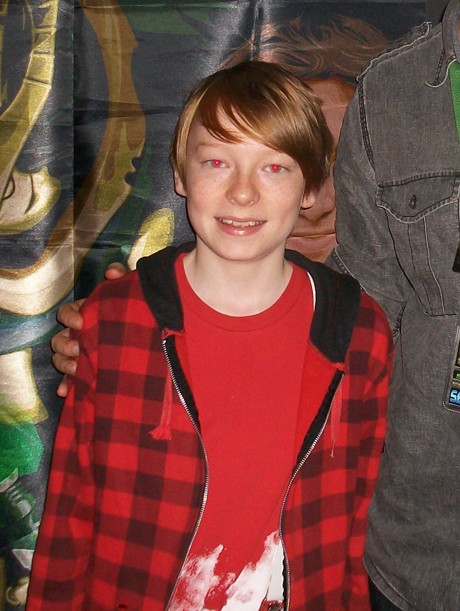 by BARRY PIERCE
Transition Year Student (St. Colman's College, Fermoy, Co. Cork)
Video Blogger
Poetry Aloud 2010 Semi-Finalist
It all started with my English teacher in class saying that there was a poetry competition coming up and that she would like to enter some students. She explained that we would have to learn two poems for the County Heats, one that was given to us and one that had to be picked from two poetry anthologies. I thought that it would be a great idea to enter the poetry competition and if I was lucky, I could go to Dublin!
I was in third year at the time so I was in the Intermediate Section of Poetry Aloud and the set poem for that section was "Beautiful, Lofty Things" by W.B. Yeats. I had always liked Yeats so I was over the moon at such a choice! I then had to pick another poem from the two anthologies. I picked "Jabberwocky" by Lewis Carroll, because I had always loved Alice's Adventures in Wonderland and Through the Looking Glass. I had to learn these poems off by heart and practised nearly every lunch break with my teacher for the County Heats.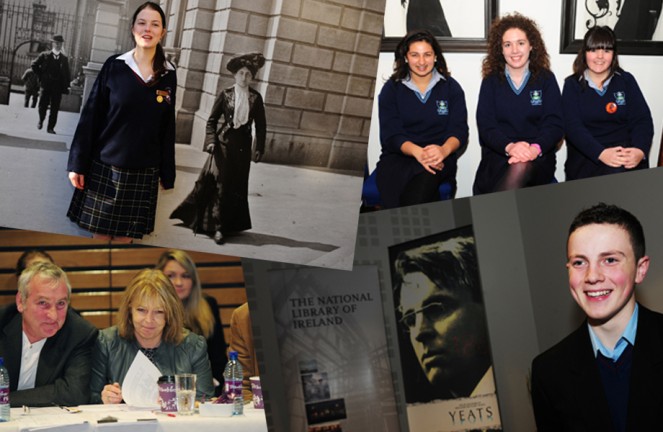 When the day of the County Heats arrived a bus load of students from my school went to Cork City to St. John's Central College. There was a much bigger crowd at it than I expected! We all went into a lecture hall and we said our poems. When my name was called to say my poems I suddenly felt terrified! I went down to the podium, in front of the crowd and said my poems. It was over much faster than I had expected! When all of our school's students had said their poetry we left. I was so scared to find out the results!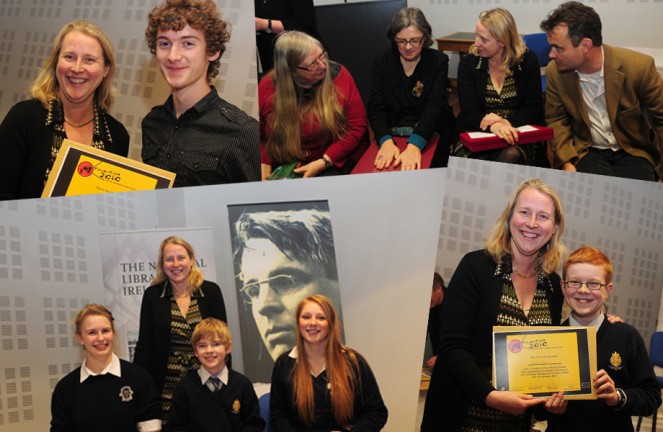 The next day in school my English teacher came up to me and she said that I had gotten through to the semi-finals of the Poetry Aloud competition and that they were being held in Dublin! I was over the moon with such great news! I had to learn two set poems, one for the semi-final and one for the final (if I got into it). The semi-final poem was "Swineherd" by Eiléan Ní Chuilleanáin and the final poem was "Achilles" by Carol Ann Duffy. We also had to pick two more poems from the set anthologies. I chose "Jabberwocky" again for the semi-final and "And Death Shall Have No Dominion" by Dylan Thomas for the final.
When the day of the semi-final arrived I had to get up at five o'clock to get the train to Dublin. The semi-final and the final were both being held on the same day in the National Library of Ireland. The train journey wasn't bad, but it was a bit long. Upon our arrival in Dublin we got a taxi to the National Library. We were put into a room with the other semi-finalists and we said our poetry. The celebrity judge was the poet Eiléan Ní Chuilleanáin.
When it was my time to say my poems I had to stand up on a podium with a poster of W.B. Yeats watching me. This did not help. However, I said my poems and that was that. Quick and easy. We then all had a break so the judges could decide on who would go onto the finals and who would not.
After the break was over we were all brought back into the room I had said my poetry in. The judges called out the names of all the people who had gone onto the finals according to the category they were in. When they came to the Intermediate category I was quite nervous. In the end I didn't get into the final but I did get to go to Dublin and have a very fun day. I would really recommend Poetry Aloud to everyone because it was one of the greatest things I have ever done.
Bean an Phoist is absolutely delighted that Barry was good enough to write about his experiences of Poetry Aloud - a nationwide poetry speaking competition for second level students, that we run every year in conjunction with Poetry Ireland! The first heats kick off all over the country next week - so if you come across students muttering to themselves, be kind to them - they're probably not crazy, but just rehearsing their poems...