NLI present at conference No Time To Wait in The Hague
Kieran O'Leary, Digital Preservation Manager at the NLI, joined Niamh Murphy from the IFI to present at the 6th annual No Time To Wait conference in The Hague in October 2022.
27 October 2022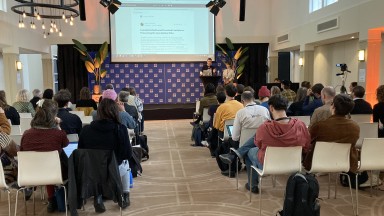 The conference aims to bring audiovisual archivists/digital preservationists and developers together to share work and ideas. 


Kieran co-presented with Niamh on the issue of language bias. Niamh spoke about various ways in which the field of digital preservation has established English as the default language, using examples like programming languages, GitHub, but also how some digital preservation tools fail to handle non-English characters very well, either distorting their spelling or just plain failing to work. She also highlighted practices within the field that sometimes refer to diacritics, such as fadas as 'illegal characters' that should be 'sanitised'.
In the second half of the talk, Kieran shared several real-world NLI examples that each had unique issues and solutions to the handling of fadas. In each instance, he demonstrated that it might be tempting to just erase diacritics and anglicise the characters, but if you dig a bit deeper, you can find ways to preserve these characters while making them work well with digital preservation tools, or even tools like Excel. Rather than leaving out the diacritics which are essential parts of a word, it's great to hear a discussion of how these kinds of limitations in the systems can be overcome.