New Acquisition: Robinson Stoney-Bowes Papers
24 January 2023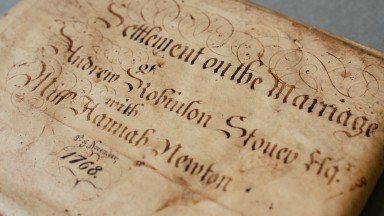 Recently acquired by the NLI | Robinson Stoney-Bowes marriage settlement.
This is the marriage settlement of Andrew Robinson Stoney-Bowes, an Anglo-Irish member of parliament, and his first wife Hannah Newton in 1768 (MS 51,426/1). Stoney-Bowes is best remembered for his marriage in 1777 to Mary Eleanor Bowes, the Dowager Countess of Strathmore and Kinghorne, during which he was abusive to his wife.
The marriage ended in scandal when the Countess filed for divorce in 1785 and was then abducted by Stoney-Bowes. Stoney-Bowes was arrested and after a lengthy court battle, the Countess finally obtained her divorce on 2 March 1789. Stoney-Bowes died on 16 January 1810 in the King's Bench Prison, Southwark, London. It is rumoured that he caused the death of his first wife Hannah Newton in order to inherit her fortune.