Blog Archive
The J.J. Carroll Collection
Friday, 26 October 2012
by Deirdre Carroll, donor and daughter of J.J. (Joe) Carroll
My father, Joe Carroll, who worked in the Department of Industry and Commerce on Kildare Street, Dublin (just across the road from the National Library of Ireland) acquired over 270 glass lantern slides from a colleague. Unfortunately we cannot recall the colleague's name. They originally belonged to General Frederick Sleigh Roberts, who at one time was the Commander-in-Chief of the British Army in Ireland, and who had family connections in Waterford.
There are 273 glass lantern slides covering nursery rhymes and fables (86); Arabian Nights type fables (21); "The Baker and the Tarred Fence" (12); "Our Firemen" (8); A story of a lion in a barrel (12); Animals (23); The Boer War, including a picture of General Roberts (24); Afghan War scenes, (9); Family photos, many taken in an alpine setting, (47); A Cruise Ship (11); Disaster Scenes (5); and one "miscellaneous".

When we were young children living in Dollymount, Clontarf in Dublin, my father used to take out the "Magic Lantern" which came with the slides and show the many scenes depicted in the photographs at our various birthday parties, to which all the children on our road were invited. We gathered around in a darkened room and my father always managed to convey the necessary emotion associated with each scene, varying from absolute terror to simple joy... The history was also a source of interest, as it seemed so far back and indeed, far away (e.g. the Boer War).
Seeing these wonderful photographs as children growing up in the '50s and '60s in suburban Dublin drew us into a world we had not experienced, that of a then disappearing Anglo-Irish community. A small number of families whose forebears had worked on the estates of some of these families in previous times lived in Clontarf at that time, and their children would join us for the entertaining afternoons of indoor "cinema" provided by my father, Joe Carroll.
Over the years, and particularly following my father's death in 1999, the lantern slides gathered dust, but I was very anxious to protect them for posterity. Following discussion with my siblings, we reluctantly agreed to part from them but took steps to seek a more permament home,and one which would ideally draw an even wider audience than that of the Clontarf of our childhood! This led to us donating them to the National Library of Ireland, where we hope they will stimulate the interest of future generations with their images of bygone times.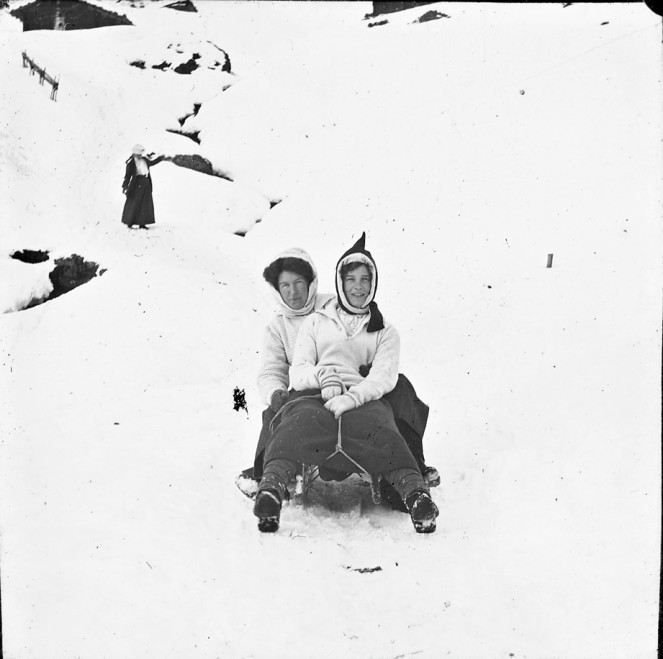 Here's some information for those of you who don't know about General Roberts. The Right Honourable Sir Frederick Sleigh Roberts (1st Earl Roberts) was born in India on 30 September 1832. He died in France on 14 November 1914, and is buried in St. Paul's Cathedral, London. He was one of the most successful military commanders of the Victorian era. He was the second son of General Sir Abraham Roberts, a native of Co. Waterford. His mother was Isabella Bunbury, daughter of Major Abraham Bunbury, from Kilfeacle, Co Tipperary. He fought in the Indian Rebellions, and also served in the Abyssinian campaigns of 1863 and 1867-68. Roberts later, as Major General, was given command of the field force in the Second Anglo-Afghan War. In 1895 he was moved to Ireland as Commander-in-Chief of British Forces (until 1899). He later commanded British troops fighting in the Boer War. He also had an interest in alpine sports (hence the 47 alpine slides).
Bean an Phoist says: Our Curator of Photographs, Elizabeth Kirwan, was delighted with this donation of lantern slides from the Carroll family, as it fills a gap in our collections and also complements another small collection of glass lantern slides that we hold here relating to children's illustrations used in Ireland. Many of the illustrations in the J.J. Carroll Collection were intended for children and young adults, possibly for use in Sunday School, but also for general amusement and edification. The fact they were used by Mr Carroll to entertain his own and other children in Dollymount, Dublin in the 1950s and 1960s is another fascinating piece of this collection's history.
One part of the J.J. Carroll Collection is a set of glass lantern slides made of William Whitelock Lloyd's Pencillings (1892), a series of illustrations made by W.W. Lloyd of his journey on board a P&O Jubilee Class ship sailing to India via Suez in 1891. However, this glass lantern slide collection largely reflects the life and career of Earl Roberts, including the alpine sporting slides. Roberts was Vice-President of the Public Schools Alpine Sports Club (1903), and he donated trophies for the Roberts of Kandahar Challenge Cup in downhill ski racing.
In another NLI "collection connection", General Roberts was the great-grandson of the artist Thomas Sautelle Roberts, some of whose work we have in our Prints & Drawings collection.