Blog Archive
Celebrating The Commons on Flickr
Friday, 11 January 2013
Next Wednesday, 16 January, is the 5th anniversary of The Commons on Flickr. 56 libraries, archives, museums and galleries all over the world (including us) make up Flickr Commons. We all share our photographic collections online, and users help us to find out more about the photographs we look after, by commenting, adding notes and tagging the photos.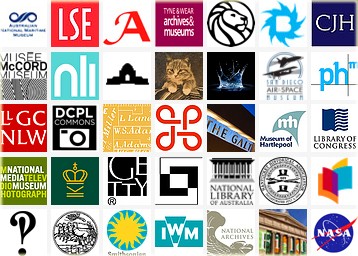 While the Library of Congress (U.S. National Library, based in Washington, D.C.) is celebrating its 5th Flickr Commons anniversary next Wednesday, here at Library Towers, we've been on the Commons for just over a year and a half. We launched ourselves on an unsuspecting world in June 2011. Since then, there have been over 2.5 million views of our 1,071 photos (a new one is added every day), and an astounding 14,871 comments. I'm the NLI Flickr Commons administrator here at the NLI, and I have to say that I'm privileged to not only work with amazing photographs, but also with an amazing bunch of Flickr researchers from all corners of Ireland, from the U.K., and right around the world...
Our Flickroonies, as I call them, fall hungrily on each photo and contribute information based on personal knowledge or expertise; from online research (e.g. 1901 and 1911 census online and OSI Historic Maps - thank you very much, National Archives and Ordnance Survey Ireland!); from old newspapers and books; by asking questions of their relatives or communities; or by getting out and clambering through fields to find an exact location... They are, in a word, amazing! Relentless, argumentative (in a good way), competitive, funny - our Flickroonies are the perfect detectives. I fear on a daily basis that An Garda Síochána will hear about them, and steal them away from us to form a lethally effective Cold Case Squad!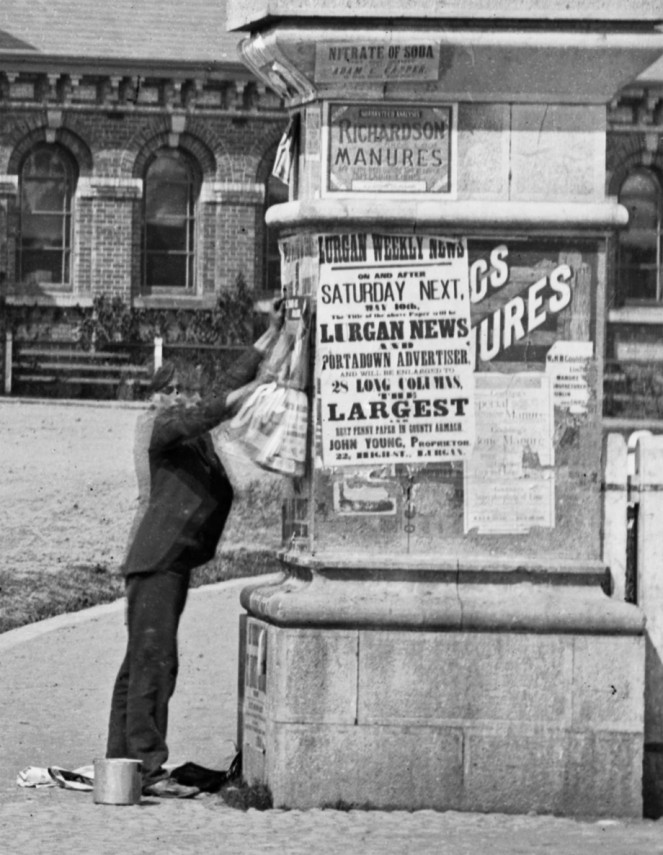 In celebration of Flickr Commons reaching the grand old age of 5 (and thanks to a nudge from Helena Zinkham at the Library of Congress), I put out a call to arms this week on our Flickr Commons for people to choose their favourite photo (for whatever reason) from our photostream, and to say why it's their favourite. Below are the first ones I received, and there'll be a second instalment next week. Oh, and I've snuck in my own favourite photograph above (one of many!). It's a detail from a photo in our Lawrence Collection of Portadown Railway Station, and this man has been fairly authoritatively identified as local Armagh man, William Stickers.
 Carol Maddock, NLI Flickr Commons Admin
Traffic Jam
Picked by Niall McAuley
Here is a photo from more than 100 years ago showing boats using the lock at the weir on the Shannon in Athlone in exactly the same way you can see boats using it today. The combination of the unchanged river, lock and activity, with the unfamiliar townscape and fashions makes this a fascinating image for anyone who knows the river.
Tipperary Hurling Team, 26 August 1910
Picked by DannyM8
This is my all time favourite photograph posted on the Commons by the National Library of Ireland. I believe that in this one post the NLI captures the essence of the Commons project. We see a photograph forgotten over time, in which lie great stories of our culture and our sporting heritage. We see faces of great men of their time including Tom Semple, a National Icon by any measurement. These men looking dapper, strong and proud, display their hard won medals to the photographer and are surrounded by admirers and onlookers. The Commons gives us a chance to see treasures like this photograph escape from the archive and give (again) joy to the viewer. Keep posting - I hear you have over 5 million photographs to go.
The Fisherman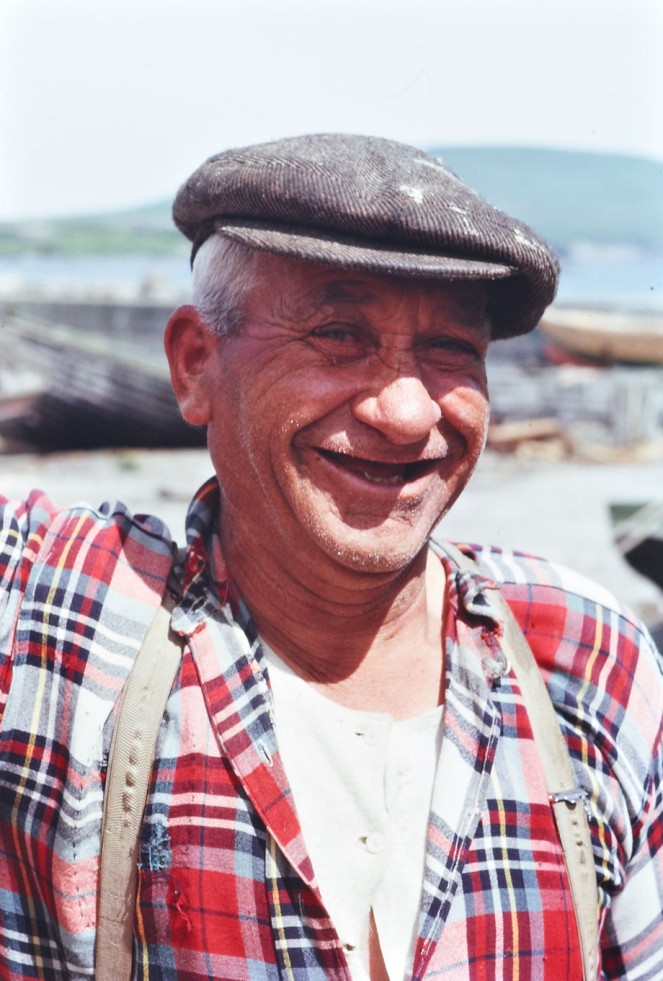 Picked by amintirivizuale
One of the images I like on the National Library of Ireland on The Commons photostream is The Fisherman. I like this man's facial expression, he seems happy and looks like a hard working man that went out to sea for many times. Excellent capture.
Nineteen minutes past 11 o'clock
Picked by guliolopez
In the 5 years of the Flickr Commons initiative, the most memorable photo for me is titled Nineteen minutes past 11 o'clock. Posted in January 2012, the detail and action in this early 1900s photo immediately drew me in. One of the key subjects of the image is the (long since removed) clock outside 5 Bridge Street, Cork. And, after some (un)subtle prompting, I did a quick search of Cork street directories, almanacs and census records to find out more about the clock and its owners. Ultimately the discussion drew the attention of emigrated descendants of the original clock owners. This was strangely rewarding, and while we never determined the fate of the clock, I have been repeatedly drawn back to the photo. Generations of my family have walked past 5 Bridge Street on their daily journeys, and - to this day - the photo prompts familial debates and discussions about some image detail or imagined back-story of the subjects. Earnestly looking forward to the next pictorial gem!
Balloon House
Picked by beachcomberaustralia
I pick the Balloon House, not just for the great image of an unusual building, but also for the priceless charming comments from 'Geri 65', which still bring a tear to the eye.
This is Carol sticking my oar in here, but I'd echo beachcomberaustralia's remark about Geri 65's comments, and would urge you all to read them. Here's just a taster:
"... I noticed in the photo, what I think is an old bike against the side wall. I can remember my mum mentioning the bike, which was used as their form of transport. If this picture was taken in 1937, then my mum would have been 14 years old and working for a family, who she called "Gentry". I think it was an English family who had a stud farm for horses. I wonder if this bike is the one my mum used to get to work. Ha ha. Lovely thought. I know the house was built on a main road because I can remember my mum telling me that nobody could pass the house without my granny knowing about it. That always made me smile..."
Plus, this Balloon House in Drumlargan, Co. Meath also has an unexpected connection with the Khyber Pass!
The Picnic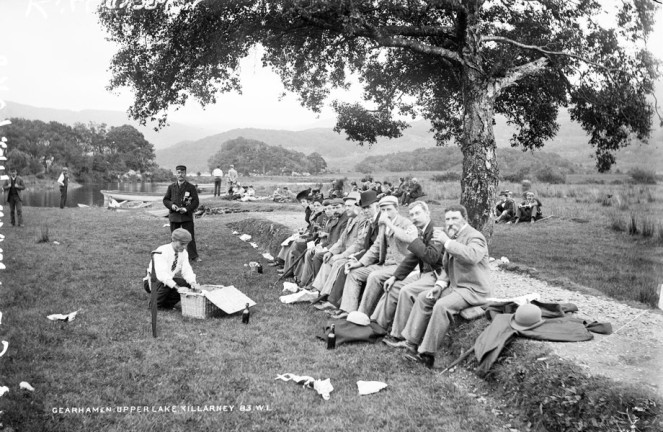 Picked by Myrtle26 aka Mossy Carey of Waterville, Co. Kerry
The Picnic, at one of the most scenic points on the Lakes of Killarney couldn't be staged, as there are so many people in it at various distances from the cameraman. It has all the classic attributes of the occasion: boatmen, attendants, baskets, umbrellas, coats and hats. It has the best of chosen scenery with a river, lakes and mountains, in the midst of which is this peaceful level spot with planted trees and flattened mounds and an inlet where the boat occupants can come ashore. But the area was not yet a National Park at this time and hasn't got the tables and benches one finds now. It has elegant men and women, and lovers who found a spot of their own at the centre of the picture, far back but to the left of the woman's hat in the main group. What a pity it would be to miss them.
Scenery was not so appreciated less than two hundred years ago, and no less a person than Daniel Defoe said the Lake District was 'a forbidding place, best avoided'. But by the time this picture was taken around the 1890s, all the people of wealth felt they must see the best places this world could offer them. The people here enjoyed the same scenery as Queen Victoria when she came to Killarney and this is an early photographic record of a picnic at its best, with the necessary excuse that it must take place in the midst of some other activity: in this case, sightseeing. I think it is possibly the best Irish record we have of a craze which was then very familiar throughout the developed world.