Blog Archive
5.2 million reasons to do a stock check
Friday, 5 October 2012
by Nora-Jane Thornton, National Photographic Archive
When asked if I would like to relocate from our Manuscript Department to the National Photographic Archive in Meeting House Square in Temple Bar, I was excited by the prospect, and when I heard that the work would involve a thorough stock check of our photographic collections, I was eager to begin.
I love tidying and organising things - just take a look at my desk... or maybe don't. I guess my previous career as an archaeologist has something to do with this. Basically archaeology involves the recovery, listing and organisation of objects from a particular site in order to discover the history of that particular area. It occasionally involves finding buried or hidden treasures. The National Photographic Archive, thankfully cleaner than a mucky ditch, also hides plenty of treasure.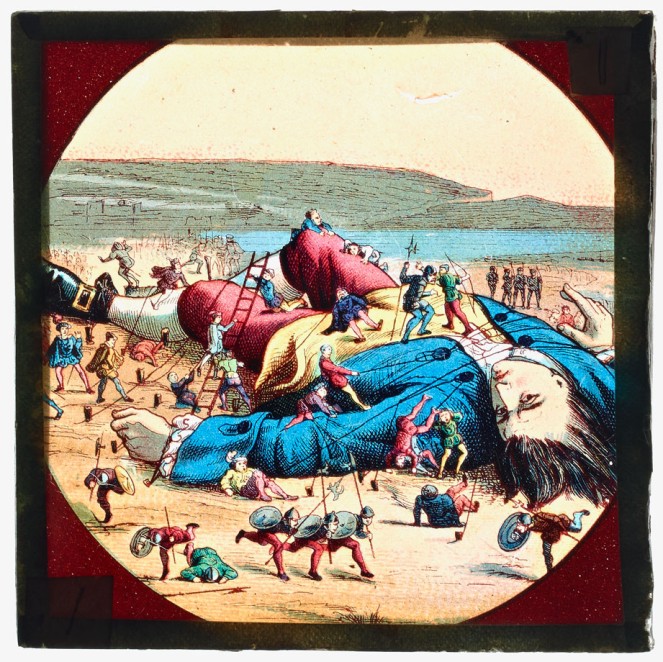 Our NLI website used to say that we hold 630,000 photographic items dating from the beginnings of photography in 1839 to the present. We suspected that this figure was a very rough estimate. In August 2011 it was decided that a complete stock check would be undertaken to establish: 1) How many items we hold; 2) if they had been catalogued online and digitised; 3) their  state of preservation. The project was led by NPA curator Elizabeth Kirwan reporting to NLI Keeper of Collections, Colette O'Flaherty, with Glynis Pickett, Maria O'Shea and me forming the new NPA Team.
Maria and Elizabeth, in consultation with Joanna Finegan (manager of our Catalogue Development Programme) came up with a Stock Check Template to help us get all the information we needed as quickly as possible, and a process to record the results onto Virtua (the NLI's Library Management System). Once this stage was finalised, Maria and I began the stock check. The basement storage in Temple Bar is divided in two - a Negative Archive and a Photographic Print Archive, as both types of material need to be stored at different temperatures and humidities in order to ensure preservation ideals.
Maria and I started in the Negative Archive where the bulk of the collection is made up of glass plates. Before plastic became the norm for photographic negatives in the 1950s, glass was used to capture or hold the image. This is very different from modern digital storage of photographic material. The glass plates are heavy as well as breakable but the majority had already been stored in preservation grade boxes and numbered, which made stock checking relatively easy. Maria then began inputting the information we had gathered from the stock check into our LMS. This stage of the stock check included the Lawrence, Valentine, Cardall, and Wiltshire collections.
When it came to the Independent Newspapers Collection things got a little trickier. The Independent Collection is so large (over 1800 boxes), that we decided the quickest way was to count the exact number of negatives in a given number of boxes and average it out that way. The overall number came to 4.3 million images and so we realised our previous total of 630,000 images in our entire photographic collections would have to be drastically revised!
In November 2011, our NPA Reading Room re-opened again for appointments (Tuesday-Thursday, 10am-1pm) and so we were joined on our team by Keith Murphy, a seasoned NPA veteran, to allow us time to continue the much needed stock check. Keith and Glynis began the task of stock checking the material in the Print Archive and by the end of December 2011 we had checked a total of 9,294 boxes. Maria had input or updated information about 39 photographic collections on our Library Management System and plenty of treasures had surfaced. We found Lantern Slides by John Joly (1857-93), the inventor of the Joly Colour Process (one of the first photographic colour processes), with images of the moon; other lantern slides with gorgeous illustrations from Gulliver's Travels; photographs of Jack Lynch's wedding; and colour slides of Dublin in the 1960s and 70s...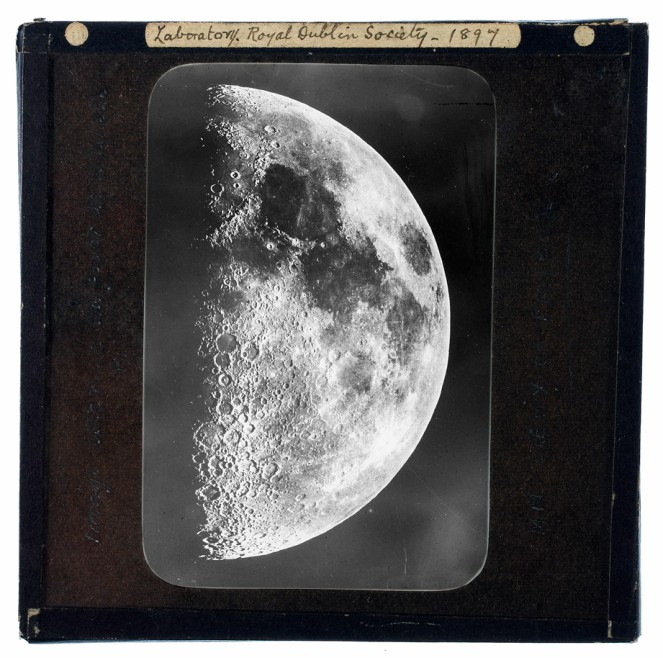 In February 2012, Keith and I were lucky enough to attend a one-day seminar in the British Library in London on the Preservation and Handling of Historic Photographs. This was a great bonus for me as I was a relative newcomer to photographic collections. The course gave a great introduction to different types of photographic material, the correct way to handle and store them and the problems, such as Vinegar Syndrome, that may affect them (more on that later). On our return to Ireland, we were able to put our newly acquired knowledge to use while continuing the stock check, and discoveries continued - we found some Daguerreotypes as well as Ambrotypes and Tintypes (all very early forms of photography).
Nitrocellulose or Nitrate film was the first form of flexible film used in photography as well as in motion pictures. The flammability of this type of film is the main danger associated with it. Once it ignites, it is impossible to extinguish by usual means. Our stock check revealed the extent of nitrate film in the NPA collections and the NPA conservator has placed most of it in cold storage to prevent any damage to our collection.
Our second area of major concern is Cellulose Acetate Film, also known as Safety Film. This replaced the earlier and more volatile nitrate film but also brings its own delightful problem, Vinegar Syndrome. This is a big problem for photographic collections, and for those who look after them. I had never heard of Vinegar Syndrome before starting work in the NPA. As the film degrades it releases acetic acid which gives off a vinegary smell, damages the images and spreads to other negatives nearby. Storage in a temperature and humidity controlled environment can help to prevent and halt this process. Elizabeth Kirwan and Matthew Cains (conservator) are implementing a system to prioritise digitisation of both our Nitrate film and film affected by vinegar syndrome to ensure their accessibility into the future.
In May, Barbara Bonini joined the NPA team and she has the task of continuing to input all remaining data gathered during the stock check onto our Library Management System. Once this process is finished, researchers will have the opportunity to access photographic material that had previously not been available to them.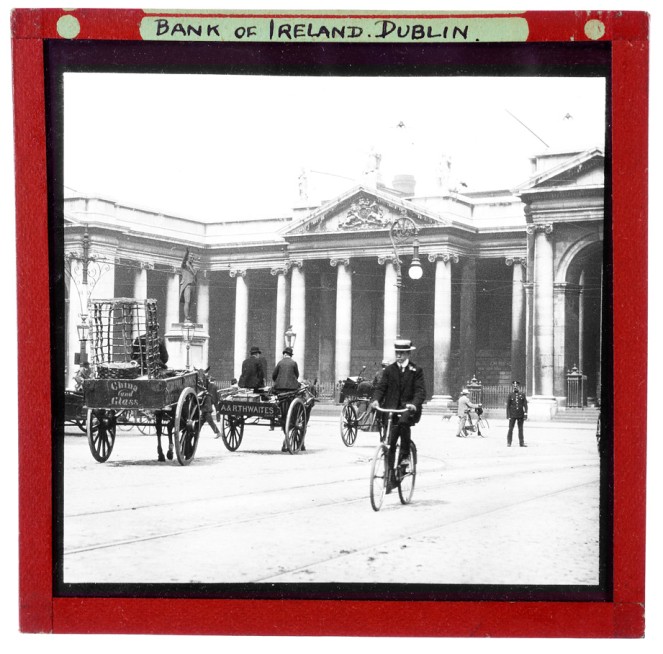 We have completed the stock check of all 15,000 boxes and now know that we hold approximately 5.2 million items. All that remains to do (!) is to input the data. The priority will be to account for all 5.2 million items on Virtua as quickly as possible now that the data collection has been completed on schedule. There are also a number of re-housing projects to be completed as well as sorting and cataloguing. The NPA Reading Room hours have also been extended and we are now open by appointment on Thursday afternoons from 2.30pm until 4.30pm, in addition to Tuesday, Wednesday, and Thursday mornings from 10am until 1pm.
I'm so glad to have helped on this project and it really has brought home to me how valuable our national photographic collection is. If your appetite for viewing photographs has been whetted, you can view many of the NPA's photographs through our catalogue and on our NLI Flickr Commons photostream.
You can also visit our new exhibition here at the National Photographic Archive in Temple Bar, Dublin. Taking Stock opens today and will run until summer 2013. It's a retrospective exhibition celebrating images from all NPA exhibitions over the past 14 years. There will also be some original photography equipment on display.