NLI welcomes funding increase in Budget 2022
24 October 2022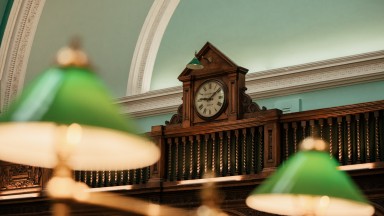 The National Library of Ireland (NLI) has today (13.10.21) welcomed an increase in its funding in Budget 2022, which was announced by the Minister for Tourism, Culture, Arts, Gaeltacht, Sport and Media.
Commenting, Director of the NLI, Dr Sandra Collins, said: "Emerging from the hardship and uncertainty of the Covid-19 pandemic, yesterday's budget announcement is a statement of commitment, signalling a new positive era of support for arts and culture in Ireland. The National Library warmly welcomes the increase in funding from Minister Martin and her Department, reflecting their continued support for and engagement with the Library. 
"The increased allocation will support the National Library of Ireland to deliver on the initiatives and priorities contained in our forthcoming five-year strategy, which will be published next year. As Ireland's memory-keeper, the NLI is committed to collecting, protecting, and making accessible the story of Ireland. This budget allocation will help us to achieve this. We look forward to continuing to work closely and collaboratively with Minister Martin and her Department."  
For more information, visit www.nli.ie. 
ENDS