National Library photographic exhibition documents LGBTI+ life and activism in Ireland
Wednesday, 9 June 2021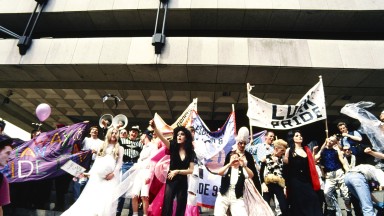 Living with Pride: Photographs by Christopher Robson tells the story of Ireland's journey toward LGBTI+ equality and the man who captured it on camera.
Celebration and defiance are to the fore of a major new photographic exhibition from the National Library of Ireland (NLI), which launched today (09.06.21) at the National Photographic Archive, Temple Bar, and online. Living with Pride: Photographs by Christopher Robson documents LGBTI+ life and activism in Ireland during the nineties and noughties, and tells the story of Christopher Robson, who captured – through his personal photography – much of Ireland's remarkable journey toward LGBTI+ equality. The exhibition is co-curated with the NLI by Christopher Robson's civil partner, Bill Foley. It was launched by Minister for Tourism, Culture, Arts, Gaeltacht, Sport and Media, Catherine Martin. A fully virtual version of the exhibition is also available to view here. 
Christopher Robson was a central figure in Irish LGBTI+ activism, helping found the Dublin Lesbian and Gay Men's Collectives, Gay Health Action – the first AIDS organisation in Ireland – and the Gay and Lesbian Equality Network (GLEN). He played a key role in the decriminalisation of homosexuality, and was pivotal in the introduction of civil partnership and the enactment of State equality legislation. His photographic collection of around 2,000 slides, which capture the LGBTI+ experience at a time when prejudice, discrimination and inequality was commonplace, was donated to the Library in 2015 by Christopher's civil partner, Bill Foley.
Photographs in Living with Pride include LGBTI+ protests in Dublin, Paris and New York; and seminal moments at home, including law reform in 1993;  Dublin Pride marches over the years; and well-known figures, including The Diceman and Panti Bliss. The exhibition offers visitors a chance to learn more about a man who captured and contributed to Ireland's remarkable trajectory for LGBTI+ equality from decriminalisation and a softening of public attitude to the decisive public vote in the marriage equality referendum in 2015.
Speaking at the launch, Director of the NLI, Dr Sandra Collins said: "As Ireland's memory-keeper, the National Library is committed to ensuring that stories which may historically have been marginalised or lesser-told have a place. Living with Pride is a flagship project for the National Library this year and represents a commitment to diversity and inclusion and LGBTI+ equality. The National Library's LGBTI+ collections are extensive and are preserved, shared, accessed and studied as part of the story of Ireland.
"This is a wonderfully vibrant and colourful exhibition with an important message of resilience behind it, and I hope people will make it a part of their Pride plans this year and visit the NLI's National Photographic Archive in Temple Bar. The exhibition and the full photographic collection are all digitised and available online, so you can also explore and enjoy them wherever you are."
Minister for Tourism, Culture, Arts, Gaeltacht, Sport and Media, Catherine Martin TD added: "Christopher Robson's legacy is expansive, and his work has contributed greatly to contemporary LGBTI+ life in Ireland, and to wider society. The tireless and brave activism of Christopher, and his peers, has helped pave the way towards an Ireland of tolerance, inclusion and dignity for LGBTI+ people, a place where pride is celebrated. The exhibition serves as a powerful reminder of the road LGBTI+ people in this country have travelled and I would like to congratulate the National Library for mounting such an important exhibition."
Christopher Robson's civil partner, Bill Foley said: "Christopher regarded his contribution to the drive towards full equality for Irish LGBTI + people as among the proudest and most significant achievements of his life. He was also concerned with their representation. This exhibition reflects those dual concerns of his. It tells the story of the community alongside Christopher's own story. Living with Pride shows our community at its best: joyful, defiant and united. I know he would be immensely proud of this exhibition, as I am proud of him. I would like to thank the NLI for creating a space in which Christopher's story, and the story of our community can be sensitively told. It is my hope that people will visit this exhibition online or in-person and feel inspired by what is possible by coming together as a community."
The exhibition is accompanied by a programme of events running throughout 2021, exploring Irish LGBTI+ identity and experience during the last several decades and into the present day, co-curated by activist, archivist and writer, Tonie Walsh. 
Living with Pride: Photographs by Christopher Robson is open Monday-Friday, 10am-4pm at the National Photographic Archive, Meeting House Square, Temple Bar. 
For more information, to view the exhibition and for the most up-to-date programme of events, visit nli.ie. 
ENDS