Students from Trinity Comprehensive School present NLI with poetry pamphlet
Friday, 15 September 2023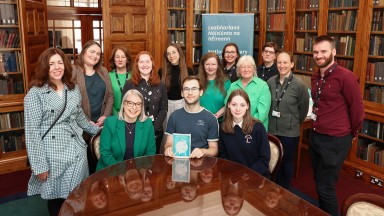 Today, Ellen Kennedy (6th year) and Wojciech Lada (Class of 2023) from Trinity Comprehensive School donated a copy of the poetry pamphlet Commoners of Air to the National Library of Ireland. The students read their pieces from the pamphlet and presented a copy to the Director of the National Library of Ireland, Dr Audrey Whitty.
The pamphlet was created through an initiative organised by Poetry Ireland and the Scottish Poetry Library. The pupils spent a week in Edinburgh attending poetry workshops with students from Leith Academy, Edinburgh. Both groups of students worked together with poets Kevin P. Gilday and Cat Hepburn. The pupils' poetry from these workshops was then published in the pamphlet Commoners of Air. 
Speaking on behalf of the donation to the National Library, Dr Audrey Whitty said: "We are delighted to receive this collection of poetry by gifted young voices. This pamphlet is the result of an inspired exchange programme between Ireland and Scotland. The NLI continues to look forward to recording, supporting and collaborating with the next generation of writers and poets, at home and abroad."