Post-Primary Tour | Turmoil to Truce: Photographs from the War of Independence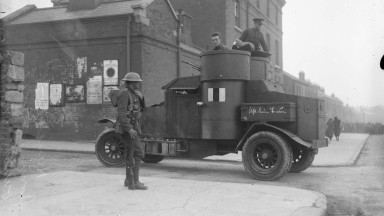 Introduction Text
Photographs, maps, posters, political cartoons, and newspaper articles are used in this online tour to explore important areas of changing politics and social movements, as well as the impact of key individuals in Ireland during the Irish War of Independence.
This online tour contextualises 100-year-old photographs, newspapers, and ephemera from the National Library of Ireland's collections within the significant events of the War of Independence.
It examines the actions of groups like the Auxiliaries, the Black and Tans, Cumann na mBan, and the Irish Republican Army across the island of Ireland.
It charts the foundation of the First Dáil and the Parliament in Northern Ireland and defines key terms like 'guerrilla warfare', 'reprisals', and 'hunger strike'.
Covering themes such as events of 'fake news' like the Battle of Kinsale (which was actually staged on the streets of Dalkey in South Dublin), the tour gives the group examples of how to analyse primary sources using the skills of the historian.
The online tour can be adjusted to accommodate your requirements and may appeal in particular to Junior and Leaving Certificate students studying history.