Lifelong Learning & Communities Tour | Welcome Tour
Location
National Library of Ireland, 7-8 Kildare Street, Dublin 2, D02 P638
Audience
Lifelong Learning & Communities
Location
National Library of Ireland, 7-8 Kildare Street, Dublin 2, D02 P638
Audience
Lifelong Learning & Communities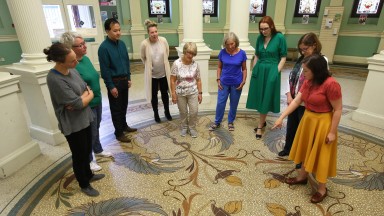 Introduction Text
This introductory welcome provides a bite-sized information session for adult learners visiting the National Library of Ireland for the first time.
This tour includes a mini introduction to the history and work of the National Library of Ireland, as well as information on the library services available to the public.
Concluding with an introduction to The Life and Works of WB Yeats exhibition, visitors are invited to finish their visit with an audio highlights tour to further explore the poetry of WB Yeats.                                                                                                                                                                                 
This tour is suitable for new and regular library users and lasts approximately 30 minutes with the opportunity for questions throughout. 
Please note: a visit to the Reading Room is not included as part of this tour.