Lifelong Learning & Communities Tour | WB Yeats and Theatre
Audience
Lifelong Learning & Communities
Audience
Lifelong Learning & Communities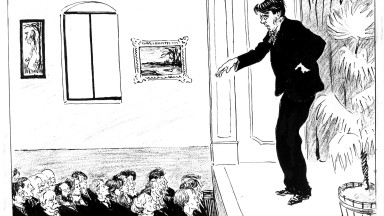 Introduction Text
Join us on Zoom for a themed exhibition tour, focusing on Yeats as a playwright and theatre maker.
Many people are familiar with Yeats as one of the greatest poets of the 20th century, but may not also know that he wrote 26 plays in his lifetime, and was a founder of the Abbey Theatre, now the national theatre of Ireland.
This Zoom tour will introduce your group to the story of Yeats as a playwright and theatre maker through the treasures of the Yeats collection on display, with an immersive, virtual, 360-degree view of the exhibition.
The Yeats Collection is the largest collection of books, manuscripts, and personal items relating to the poet anywhere in the world, and is made possible by the huge generosity of the Yeats family in donating the items to the National Library of Ireland.
This tour will appeal to adult learners  and groups with an interest in theatre, literature, and history.