Blog Archive
Postcards and public history
Thursday, 5 July 2012
by Chantal Sweeney, M.Phil. in Public History & Cultural Heritage at Trinity College Dublin
Like many people, I spent the majority of last Christmas holidays lounging around in my pyjamas, watching old movies and eating too much food. I was giving my brain a much-needed break for the first time since embarking on my Masters in September 2011. The course, a brand new M.Phil in Public History and Cultural Heritage at TCD, had been tough but very enjoyable. I had struggled a bit adjusting to a new city and college, and to the transition from undergraduate to postgraduate. I found it especially difficult because I had spent the previous four years studying the history of ancient Greece and Rome, not contemporary Irish history and cultural heritage!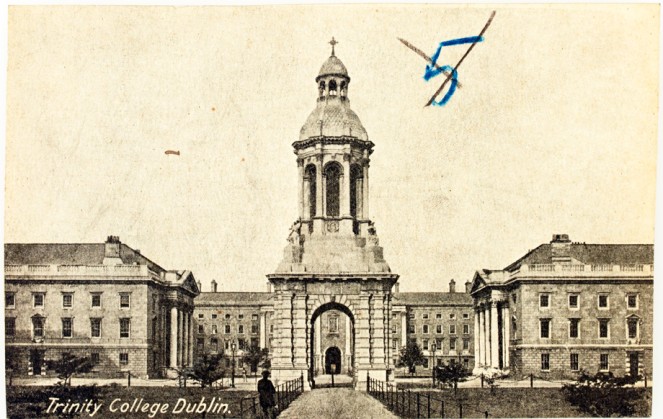 By Christmas I was finally finding my feet and feeling like I was getting the hang of it. Imagine my panic, then, when I opened my email to find a message from my supervisor, asking for a detailed proposal regarding the internship we were required to complete as part of our course.  I had been so busy relaxing that I had completely forgotten about it! My holiday officially came to an end as I settled down with the laptop and kick-started my brain back into academic mode. Now came the real problem: deciding exactly what I was going to do as my internship. I knew I was interested in postcards and other cultural ephemera, but I didn't know where to go from there. I had a fair idea of what I sought to gain from the internship: practical experience in curating, handling and cataloguing, and also ideas and material for my dissertation. Luckily, the National Photographic Archive (NPA) in Temple Bar, Dublin, had just the project for me.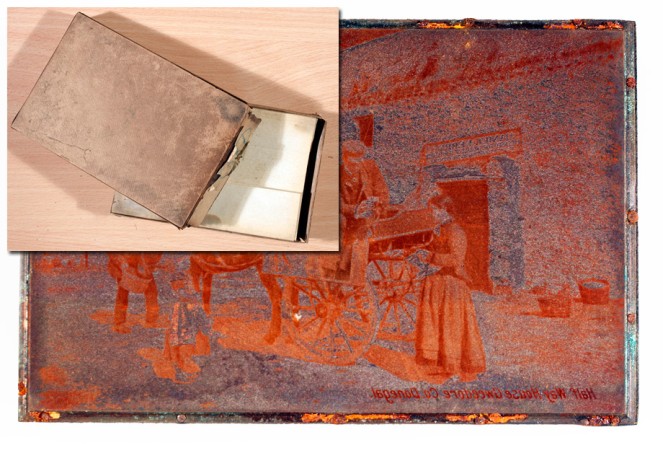 The project involved an estimated 885 printing blocks for the Lawrence postcard series, which had never been catalogued before. They had been lying dormant since they were acquired by the National Library of Ireland in 1942, just waiting for someone to come along and breathe some life back into them. When I went to the NPA to view the collection for the first time, I was overwhelmed to say the least! What lay before me was a seemingly endless sea of dusty, brown boxes, most of which were falling apart. Elizabeth Kirwan, the NPA curator, sat down with me and showed me how to handle the boxes correctly and how to examine the contents without damaging them.
We designed a template for listing the collection, which includes Box Number, Title, Date, Postcard or Proof, Printer's Stamp present or not, and Subject. The subjects of the images are the most interesting aspect to me, and I especially enjoyed coming across scenes of busy towns, markets and fairs from all over Ireland. I came across several images of Galway, which is where I did my undergraduate degree, and was fascinated to see how the university, streets and shop fronts had changed in the last hundred years or so.
During my time at the NPA I have gained invaluable experience which I am sure will stand to me long after I am finished. For my dissertation I decided to explore the relationship between postcards and the tourism/heritage industry in Ireland. I want to show people that postcards are an invaluable resource to anyone interested in Ireland's social and cultural history. The NPA is an absolute treasure trove of images and information.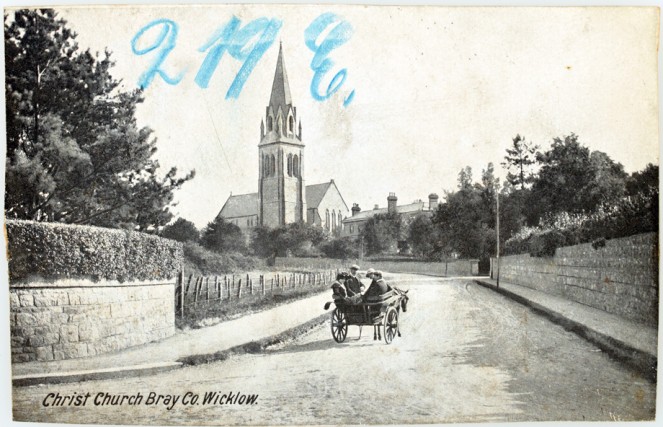 If you want to know what your street looked like a hundred years ago, what outfit you would have worn to go to mass, or how you would have travelled into town before buses were invented, postcards can give you the answer. The internship officially finished after 12 weeks, but I was only half way through listing the collection and couldn't bear to leave it unfinished! So I decided to continue on this exciting journey that has allowed me to peer into Ireland's past and feel like I am a part of it.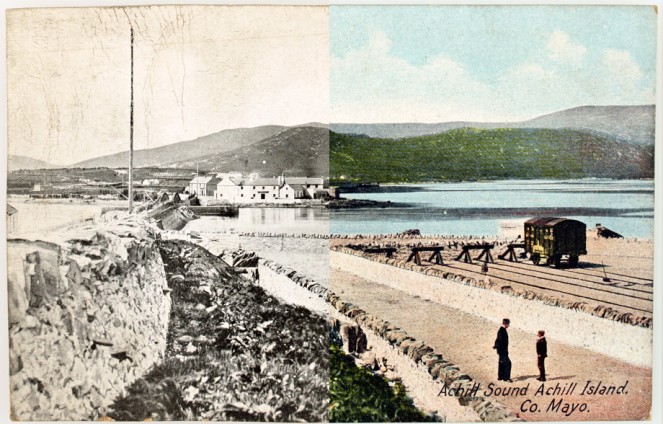 So far I have relaxed with the upper-classes at the Golf Links in Greystones, hopped barefoot three times around the Metal Man in Tramore, bartered and haggled on Market Street in Sligo, enjoyed a luxurious stay at the Royal Victoria Hotel in Killarney, and taken a chilly dip in the waters off Achill Island. I can't wait to see what other adventures lie in store for me over the next few months!