Post-Primary Tour | World War Ireland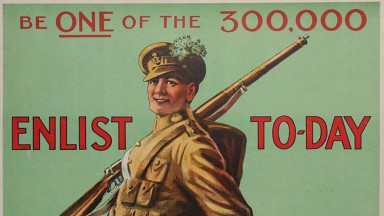 Introduction Text
Join us on Zoom for an engaging online tour of World War Ireland: The Irish Experience.
This tour introduces learners to the uniquely Irish experience of the First World War.
Drawing on the National Library of Ireland's collections of letters, diaries, recruiting posters, newspaper reports, cartoons, handbills, and leaflets dating from 1914-1918.
This tour is suitable for all post-primary students, but may be of particular interest to Junior Cycle and Leaving Certificate students of History.