Lifelong Learning & Communities Tour | Seamus Heaney: Listen Now Again
Location
Available both in person and online via Zoom
Audience
Lifelong Learning & Communities
Location
Available both in person and online via Zoom
Audience
Lifelong Learning & Communities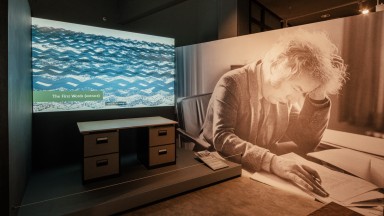 Introduction Text
Enjoy a fascinating journey exploring the highlights of Heaney's archive, from his rural origins through to his remarkable career as a poet.
This tour of Seamus Heaney: Listen Now Again introduces you to the National Library of Ireland's extensive archive of Seamus Heaney's literary papers, and features Heaney's original manuscripts as well as letters, diary entries, photographs, and notebooks.
This tour is suitable for all adult learners.