Post-Primary Tour | Yeats: The Life & Works of WB Yeats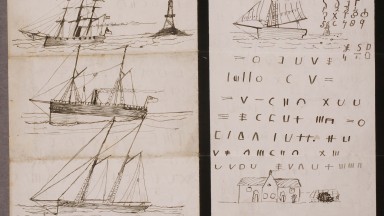 Introduction Text
Join on us on Zoom for this immersive tour of The Life & Works of William Butler Yeats, using a 360-degree view virtual exhibition.
This exhibition on WB Yeats, one of the great writers of the twentieth century, contains highlights from the National Library of Ireland's Yeats collection. The Yeats Collection is the largest collection of books, manuscripts, and personal items relating to the poet anywhere in the world, and is made possible by the huge generosity of the Yeats family in donating the items to the NLI.
The tour will introduce your students to the story of Yeats's fascinating life and work through the treasures of the Yeats collection on display, including some of WB Yeats's most popular poetry, and includes personal items,  books, and manuscripts from the Library's collection.
The highlights from the exhibition included in the tour touch on many themes that were important in Yeats's life, including Ireland, literature, folklore, theatre, politics, mysticism, and the occult.
This tour is most suitable for Junior and Leaving Certificate students of English and History and can be customised to cover the poetry being studied as part of the curriculum.